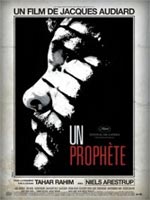 In case you didn't get the message while the Cannes Film Festival was running, it's clear that Jacques Audiard's Grand Prix champ "A Prophet" is a title we're going to be hearing a lot this year. True to its preceived status as the critical favorite, the gritty French prison drama has been voted the fest's best in a mini critics' poll by indieWIRE, compiled from the votes of a selection of U.S. journos and bloggers (and, oddly, one critic from a UK right-wing rag).
Runner-up, interestingly enough, was "Antichrist," which emphasized its divisiveness by also placing second in the category of worst festival film. (What was the worst, you ask? Why, none other than Best Director champ "Kinatay.") Third-best honors went to Palme d'Or winner "The White Ribbon" and Un Certain Regard darling "Police, Adjective."
Although support was clearly scattered, with no film getting the vote of the majority of critics polled, "A Prophet" came out on top in every voting category, including Best Director, Best Screenplay and Best Performance for breakthrought star Tahar Rahim. (Rahim beat the Cannes jury's Best Actor choice Christoph Waltz into third place, while second was early Best Actress favorite Giovanna Mezzogiorno.)
That "A Prophet" has made a strong impact on the American press is significant — could this be one that crops up in assorted critics' awards and ten-best lists come December? Now-routine comparisons to "Gomorrah" and even "GoodFellas" suggest a potential arthouse hit, while it seems likely the French could select is as their Oscar runner. (They've picked a Cannes champ for the last two years running.)
That said, I wouldn't count on Audiard's reportedly brutal film pleasing AMPAS's lily-livered foreign-language committee, who might well prefer the period elegance of "Coco Before Chanel," while Roger Ebert thinks they'll opt for the middle ground with another Cannes title, "In the Beginning." The French selectors have made challenging choices in the last two years, but that came after a long run of putting forward cosy middlebrow fare like "Merry Christmas" and "The Chorus." Will they stick to their guns, or go back to playing it safe? They aren't short of choices, that's for sure.
See the full results of indieWIRE's poll here.