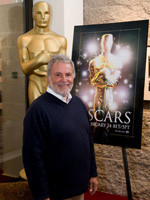 As you know, Sid Ganis will close out his fourth-straight one-year stint as president of the Academy of Motion Picture Arts and Sciences in a matter of months (he'll be packing up his stuff in August).  "If history is any guide," Michael Cieply writes in this Carpetbagger item, "some deeply internal glad-handing and politicking will be underway in a month or so, as the world's most glamorous deliberative body decides who will next sit in the big seat."
As Cieply notes, the Academy president is decided by and from its board of governors.  He offers up his own best guesses for who might win those "several seconds of annual face time" on the yearly Oscarcast.  After rattling off a list of names like Tom Hanks (could move the ratings meter with the right PR), Kathy Bates (ditto, to a lesser degree), Kathleen Kennedy (producer extraordinaire), Robert Rehme (a former president with lots of fans, Cieply says), Hawk Koch (another producer), he comes to this somewhat more plausible scenario (as I see it):
Another wild card might be Ed Begley Jr., whose face is not quite as familiar as that of Mr. Hanks, but who would bring a little star power to a post that has lately been occupied by off-screen types like Mr. Ganis, who is a producer, or Mr. Rehme, who is the same, or Frank Pierson, who has done his share of producing, but is probably better known as a writer of films like "Cool Hand Luke" and "Dog Day Afternoon."
Whatever happens, you can bet the decision will take some level of publicity into consideration.  How could it not?  I'm sure 99% of the viewing audience has stopped and wondered aloud, "Who the heck is that Guy?" when Ganis graced Oscar's stage to give the usual AMPAS spiel the last four years.  We're not all obssessed with this nonsense, after all.