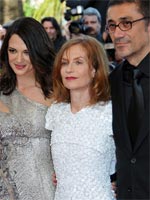 It's admittedly pretty low-rent, but one of the most enjoyable Cannes traditions is the annual gossip about what went down behind closed doors in the jury room — ranging from minor cultural disagreements to all-out bitter in-fighting. At yesterday's press conference, juror Asia Argento insisted that their deliberations should remain a secret, but not everyone is so discreet: William Goldman, of course, dedicated half a book to covering his own experience as a juror at the 1988 fest, and most entertainingly too.
Last year's Sean Penn-governed jury was reportedly one of the most placid in recent memory, agreeing unanimously on "The Class" for the Palme d'Or. This year's panel, apparently … not so much.
Critic Shane Danielsen — who, as the former artistic director of the Edinburgh Film Festival, knows the ins and outs of such proceedings — has done some digging, to juicy effect. Writing in the comments section of the A.V. Club's Cannes blog, he claims the jury was highly divided, with a notable rift between Isabelle Huppert and James Gray. Meanwhile, contrary to widespread assumption, it might not have been Michael Haneke that Huppert was pushing  hardest for, but Lars Von Trier:
Unusually troubled, apparently, with president Isabelle Huppert riding roughshod over everyone, and James Grey (sic) reportedly calling her a "fascist bitch" in their final meeting … Huppert reportedly remained 'Antichrist's biggest champion on a bitterly divided and fractious jury. Who, as they came onstage, looked either funereal (Lee Chang-Dong, Hanif Kureishi), grimly determined (Nuri Bilge Ceylan) or just plain pissed-off (James Gray).
Needless to say, the jury's press conference is all civilized camaraderie, with Argento and Robin Wright Penn insisting on the communality and friendships formed in the process, while Gray extravagantly sings Huppert's praises as a president and cites "no discord." Whether you choose to believe that or read it as damage control is all part of the fun. (Variety, by the way, quotes an unnamed as juror as calling this his worst-ever jury experience.)
Hanif Kureishi, however, raised the biggest laughs of the conference with his dry take on the events, particularly when it came to the night's least well-received winner, Brillante Mendoza's "Kinatay":
It's quite odd watching two films a day, and quite intense … and some of the films are very, very long. And some of them are very, very weird as well, I have to say. But most of them were interesting, and we discussed them all very intensively. I have to say, I saw things I've never seen in my life before in some of these films, but in the end, on the whole, we came to the right decisions.

It ("Kinatay") is not a dating film, this film. As I'm sure you know, it involves a very violent rape, and then a beheading and then a dismemberment. So I wouldn't advise any of you to take your lover to see this movie, but sometimes good art is hard. It's not something I want to see again, I have to say.
Now there's British diplomacy for you. If you want to do further reading between the lines, check out the videos (complete with headache-inducing camerawork) from the press conference here.