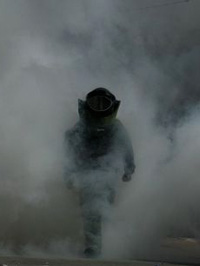 It's somewhat surprising that our year-in-advance Oscar coverage is only three months old.  That now ancient list of predictions seems so long ago, and yet, even with Cannes behind us and this or that indication of a few of the contenders, I have no idea how to offer an educated update beyond general housekeeping.  The season, it seems, will remain elusive for just a little while longer.
Here's what we know: Critics didn't respond to Universal's "The Boat That Rocked" across the pond.  But the Brits hardly have a soft spot for Richard Curtis.  Along similar lines, Stephen Frears's "Chéri" hasn't exactly inspired either.  But both films, from awards savvy studios, could find a second wind when they eventually open Stateside.
The biggest Oscar hopeful to emerge from this year's Cannes fest is, in my opinion, Jane Campion's "Bright Star."  Heralded in some quarters as a return to form for the director, and snatched up by the intrepid Bob Berney (formerly of Picturehouse and now closing in on a name for his distribution company with partner Bill Polhad), the film could be a nominations hog, anywhere from six to 10 possibilities.  You'll note all of my ponderings in that regard in the latest chart update below.
Beyond Campion's period piece, there was little to write home about, it seems.  Focus's "Taking Woodstock" from director Ang Lee, perceived by some to be the studio's big hopeful a few months back, landed quietly on the Croisette and quickly became an afterthought.  But it's easy to get lost in the shuffle of a Lars Von Trier scandal and buzz surrounding festival favorites Michael Haneke and Quentin Tarantino.  We all know mediocre can go a long way in an Oscar campaign, so it would be unwise to count anything out just yet.  That said, there could be other options for the studio.
Speaking of Tarantino, his latest indulgence, "Inglourious Basterds," was a different film to different people, but the subtext seemed to be, "Oh, Quentin," as usual.  That didn't stop Christoph Waltz from taking an acting prize at the fest, so perhaps we have a new supporting actor contender on the radar.  But will The Weinstein Company have the campaign funds to handle both "Basterds" and perceived heavy "Nine?"
Also notable: Pedro Almodóvar's latest, "Broken Embraces," was largely seen as a step into safer territory than the auteur's usual brand of daring cinema.  For some, that means Oscar could shy away, but if we're being honest, some accessibility could do Almodóvar a lot of good when it comes to AMPAS.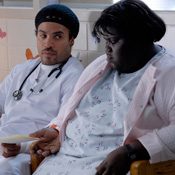 The obvious cinephile must-see to come out of the fest, of course, was Von Trier's "Antichrist," which landed an award for actress Charlotte Gainsbourg.  But it's probably safe to assume the conservative Academy won't find much to admire in a film saddled with accusations of misogyny from a filmmaker with the biggest ego this side of…well, Quentin Tarantino.
So beyond Campion's film, what do we really have?  Pretty much the same thing we had three months ago.
All of the expected heavy-hitters (Weinstein's "Nine," Searchlight's "Amelia" and Warners' Mandela film) may as well stay put for now, while the Paramount slate still appears somewhat dubious until we know more (tough subject matter in Peter Jackson's "The Lovely Bones" and perhaps merely commercial potential for Martin Scorsese's "Shutter Island," though that didn't stop "The Departed).
All of that said, I've had a feeling since Sundance, and certainly now with a standing ovation in Cannes, that Lionsgate could jump back into the ring again this season with one of the year's most acclaimed films to date: Lee Daniels's "Precious."  It'll pack the heavy punch of an Oprah Winfrey endorsement, which certainly helped Lionsgate in 2005 when "Crash" slipped up on everyone.  Then again, nothing came of her support for "Australia" last year, so its no ace in the hole.
From our perch here at the end of May, however, "Precious" simply seems to have that "little film that could" potential percolating.  It could face off against fellow Sundance hit "An Education" in that regard, but Lionsgate will have all its eggs in one basket, while Sony Classics has a typically full slate of indies to promote and no clear focus yet.
Rather than drive myself crazy with more speculation on unseen contenders, there are some considerations for films that have already been widely screened, if not already released.  Will the director's branch recognize Kathryn Bigelow's astute handling of the surprisingly complex "The Hurt Locker?"  Better yet, will the acting branch see Jeremy Renner's performance as the controlled piece of artistry that it is?  Or could the film simply be rendered moot by the upcoming "Green Zone?"
Can Pixar finally find its way into Best Picture contention for "Up," another home run and, for many, a watershed moment in the studio's maturation?  Or what about the most critically acclaimed release of 2009: J.J. Abrams' "Star Trek?"  Could it find more tech room than it would have without the lauds and boffo box office?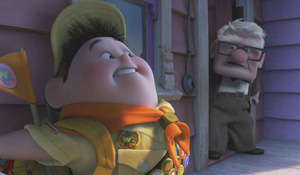 Sadly, however, that's where the first half of the year hits a roadblock, outside of an obvious animation home run for Focus and "Coraline."  I can't remember the last time there wasn't at least one clear awards favorite from the January-June time frame.  Maybe when the buzz swirls around "The Hurt Locker" a little more next month that will change things.
I won't bother with meaningless speculation on the year's upcoming contenders (yet), but one thing that has been on my mind is a question I imagine we'll all have to ask sooner or later: If James Cameron's "Avatar" is going to be this big game changer, should it not follow that the film will have a significant Oscar impact?  We'll see.
As I shuffled through the charts for an arbitrary update, I began to sense an extremely light playing field.  Of course, a number of titles have yet to pick up distribution and that could change things in an instant.  I refrain from listing a contender on the charts until it has secured domestic release, though all possibilities, as always, are listed in our Contenders sections.
But it's been a bit of a struggle regardless to fill lists of 10 throughout.  Hopefully that isn't an indication that we're heading for another weak season, but if last year was taught us anything, it's that when it comes to the Oscar game, Hollywood can make chicken salad out of chicken…well, you get the picture.
On to the update.  We'll revisit things again in a month or two, depending on what happens.  Enjoy:

Main Category Charts
Technical Category Charts
The Contenders
Oscar Prediction Archives