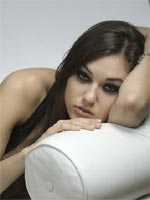 I absolutely love this. It would appear that porn star Sasha Grey and highbrow film critic Glenn Kenny have more in common than just their mutual appearances in Steven Soderbergh's "The Girlfriend Experience." As this Rotten Tomatoes interview proves, Grey's own cinematic taste is discerning, to say the least.
Asked to name her five favorite films, she rattles off a decidedly impressive — not to mention catholic — array of titles: Werner Herzog's "Stroszek," Catherine Breillat's "Fat Girl," John Cassavetes' "A Woman Under the Influence," John Carpenter's "Escape from New York" and Jean-Luc Godard's "Pierrot le Fou."
The latter auteur is apparently something of an inspiration; Grey almost adopted the name of Godard muse Anna Karina as her stage moniker. Who knew? Here's Grey on "Pierrot le Fou":
To me, it's just a very romantic story. It's the ultimate, "let's just drop everything and run away together" movie; the way the story was told was so unique. There's one scene in particular where Anna Karina is on the beach, and she rolls over and she just says, "F— me." To put that in a film in that time period — you just didn't expect that to come out of her mouth. It's titillating, I guess you could say.
Interesting to hear that Grey has a very different idea of what is "titillating" onscreen than what she actually practices. The lady continues to surprise.