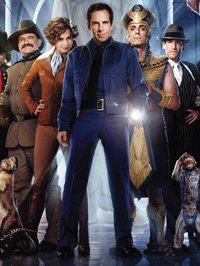 Hollywood tried something it rarely does this Memorial Day weekend: it opened two huge sequels at the same time. The last time anything remotely similar happened was the same holiday weekend in 2005 with "The Longest Yard" and "Madagascar." They were really just fighting for second place, though, as the second weekend of "Star Wars: Episode III — Revenge of the Sith" was a safe bet for number one.
This year's Memorial Day champ is Ben Stiller with "Night at the Museum: Battle of the Smithsonian." The family comedy earned $53.5 million for the weekend and will have another solid day of business during the holiday tomorrow. That's better than the $33.4 million debut of the original but that film opened during Christmas and had outstanding legs through early 2007. Its total gross of $266 million is completely out of the question for the sequel now.
The debut is pretty much exactly the same as the second place debut of "Madagascar" from the aforementioned 2005 time frame and that film wasn't even a sequel. With no other family films in the market, this has to be considered a little soft for Fox.
Second place goes to "Terminator Salvation" with $43 million for the weekend and $56.4 million since opening on Thursday. Again, Warner Bros. has to see this as a little soft as after four days in 2003, "Terminator 3: Rise of the Machines" was already at $70.4 million. Terrible reviews, as well as competition from "Star Trek," helped seal McG's fate and I can't see word of mouth getting this anywhere higher than $135 million. International grosses will decide whether his planned trilogy comes to fruition or not.
The two films combined to gross a mere $96.5 million, which is less than "Indiana Jones and the Kingdom of the Crystal Skull" did on its own last year and early predictions that this might be the biggest weekend of all time were sorely inaccurate. Throw the $11.1 million that "Dance Flick" earned, though, and the three films top Dr. Jones. Actually, the Wayans brothers spoof is the only film that performed better than expected and the family dynasty will live to make another shitty movie.
"Angels & Demons" slid 54%, which is not great for a film that skews older on a holiday weekend. Without all the hullabaloo surrounding Dan Brown's first book, this would-be blockbuster is revealing itself to really just be "End of Days" with Tom Hanks instead of Arnold Schwarzenegger.
I gave my $10 to "Earth" this week and was unimpressed. I haven't seen any of "Planet Earth" but I have seen "Baraka" and I just sat there wishing I was watching a 70mm print of that beauty the whole time.
"Star Trek" is still the main story at the box office as it earns another $22 million and closes in on $200 million. Unless "Up" works a miracle, J.J. Abrams should have the highest grossing release of May on his hands, which is something I never would have predicted a few weeks ago.
Speaking of "Up," the Pixar toon leads the charge next week and despite raves from Cannes, this one remains a tough sell for Disney. I think $46 million would be a win, even though it would mean Pixar's lowest debut ever (barely).
Sam Raimi also enters the fray with "Drag Me to Hell," a film which I thought would be marketed heavier. A few weeks ago I would have said $30 million easy, but now I'm looking at $19 million for the weekend.
What do you guys think?  Here are the weekend's top domestic grossers, courtesy of Exhibitor Relations: