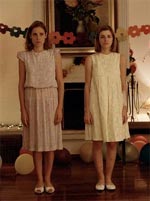 It's been a while since a Greek production made any impact on the world cinema scene — arguably not since Theodouros Angelopoulos claimed the Palme d'Or in 1998 — so it's interesting to see that Yorgos Lanthimos' "Dogtooth," a dark family drama about three siblings disconnected from the outside world by their parents, pushed past more fancied contenders to take the top prize in Cannes' Un Certain Regard strand last night.
In doing so, it beat out the likes of "Precious" and "Samson and Delilah," both of which enjoyed substantial attention and acclaim on the Croisette but went home empty-handed. (NOTE: "Samson and Delilah" later won the Camera d'Or award at the final awards ceremony.) Not that the former needed any more of a boost after its Sundance sweep, really.
The runner-up Jury Prize went to "Police, Adjective," a comic Romanian policier about on a policeman wrestling with his conscience, which also took a FIPRESCI critics' award yesterday. Raves have been coming thick and fast for this film, with the Guardian's Mark Cousins one of several critics I've heard declaring it the best of the festival, in any section of competition. (Coming on the heels of "The Death of Mr Lazarescu" and "4 Months, 3 Weeks and 2 Days," one must wonder: what are they teaching in Romanian film schools?)
Another common critical line doing the rounds is that the Un Certain Regard selection was, pound for pound, stronger than the Palme d'Or lineup. It's hardly surprising, given that the strand has become more imposing with each year since it was introduced in 1998: UCR winners that have gone on to estimable arthouse success include "The Band's Visit," "Tyson" and the aforementioned "Lazarescu." It's a sign that, as I've said before, the selectors  need to start taking more chances in the main competition.
More details on the rest of this year's Un Certain Regard winners here.