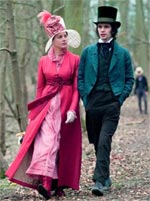 It's all over bar the voting. Tomorrow, Cannes jury president Isabelle Huppert will meet with her formidable, female-dominated team of eight – including the diverse likes of Robin Wright Penn, Asia Argento, James Gray and Hanif Kureishi – to pick over the 20 Competition titles they have seen over the last fortnight and select their collective favorites.
As I've said before, the most surprising thing a Cannes jury can do is not to surprise: to hand the Palme d'Or to the critical and/or popular favorite. It can happen, of course – critics and pundits alike called it for "4 Months, 3 Weeks and 2 Days" the day it screened in 2007, and were proved right – but the list of upsets is long and illustrious.
As you've probably heard by now, if the bookies have their way, French auteur Jacques Audiard will be brandishing the Palme this time tomorrow, his prison drama "A Prophet" having wowed critics and audiences across the Croisette. I'll be delighted if he does, but I've questioned whether a French production can win two years running, after a two-decade drought to boot.
Of course, such streaks aren't unheard of: the U.S. held onto the Palme for three years between 1989 and 1991. Other questions running through my mind are whether Frenchwoman Huppert might want to avoid making the festival too much of a local affair, and whether Audiard's all-male film will resonate as strongly with a mostly female jury.
If not, there are a number of alternatives. By my count there are six titles seriously in the hunt for top honors. Michael Haneke's "The White Ribbon" is fancied by many to finally land the director the top prize. Earlier today, the film made its presence felt by claiming the FIPRESCI critics' prize for best in show, though it should be noted that the jury's and FIPRESCI's choices have only lined up three times this decade.
(More speculation, and my final predictions, after the cut.)
Jane Campion's comeback effort "Bright Star" is a popular choice, though two-time Palme d'Or champs are rare and the film might be a little too mainstream for the jury's tastes. (That said, in a year that has seen a record number of women both on the jury and in the competition, a win for a female auteur would make a neat narrative.)
Marco Bellocchio's "Vincere" has its admirers, particularly in the European critical community, as does Andrea Arnold's "Fish Tank" – though the former's biographic sweep and the latter's grim British social realism may strike the jurors as a little too familiar. For my part, though it hasn't attracted the same level of media attention as some of its rivals, I'm sticking with my earlier gut pick of Elia Suleiman's "The Time That Remains" – if only because, in the midst of a very downbeat lineup, Suleiman's quirky brand of socially conscious comedy might seem a more distinctive option.
That's not to write off the remaining films altogether. While we can safely ignore the latest offerings from Ang Lee or Isabel Coixet, is it wise to discount the lofty likes of Pedro Almodovar? In the shadow of Audiard, two other French titles, Alain Resnais's "Wild Grass" and Xavier Giannoli's "In the Beginning," have drawn quiet admiration in many quarters, but sound a little low-key for the top prize; writing honors could be a likelier prospect. For their part, the French themselves seem rather taken with Ken Loach's comedy "Looking for Eric," but it strikes me as a tad lightweight for the gold.
Meanwhile, who knows what to make of the dangerous wildcard that is "Antichrist?" An award for Lars Von Trier would certainly be sweet revenge after the muckraking antics of the Ecumenical Jury earlier today. Or perhaps  there's a chance the jury might respect Charlotte Gainsbourg's bravery in taking on the physical and emotional rigors of the project, and give it sideways recognition that way?
Speaking of which, given the femme-powered nature of proceedings, it's fitting that Best Actress looks like an unusually competitive race. Aside from Gainsbourg, "Fish Tank's" teenage sensation Katie Jarvis drew headlines earlier in the competition. "Bright Star" lead Abbie Cornish is finally capitalising on her 'next big thing' buzz, while Italian star Giovanna Mezzogiorno has been widely praised for anchoring "Vincere."
By contrast, Best Actor looks like a lean field, with no one performance generating major excitement. The favorite at this point would appear to be "A Prophet" star Tahar Rahim, a young Arab actor appearing in only his second feature film. If the jury covers the youth angle in the Best Actress category, I have a feeling they may use this award to throw a bone to "Looking for Eric." "Fish Tank's" Michael Fassbender or "Vincere's" Filippo Timi could surprise, though both men have played second fiddle to their female co-stars in the media coverage.
And with that, my final, largely random and wholly unreliable predictions. Please feel free to share yours in the comments.
Palme d'Or: "The Time That Remains"
Grand Prix: "A Prophet"
Jury Prize: "Vincere"
Best Director: Michael Haneke, "The White Ribbon"
Best Screenplay: Xavier Giannoli, "In the Beginning"
Best Actor: Steve Evets, "Looking for Eric"
Best Actress: Katie Jarvis, "Fish Tank"
Technical Grand Prix: Greig Fraser, "Bright Star"