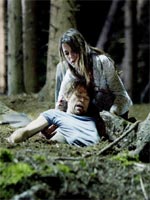 UPDATE: I'm pleased at least to report that Cannes festival director Thierry Fremaux is as outraged by the situation as we are, denouncing it as a "ridiculous decision that borders on a call for censorship … scandalous coming from an 'ecumenical' jury which what is more is headed by a film-maker." Well said, Monsieur.
EARLIER: I shouldn't allow myself to get worked up over a petty gesture by a small-minded panel of people, but this can't pass without comment.
You may or may not be aware that an annual "Prize of the Ecumenical Jury" has been handed out at the festival since 1974. Established and voted upon by a selected panel of Christian film professionals, it aims to honor "works of artistic quality which witnesses to the power of film to reveal the mysterious depths of human beings through what concerns them, their hurts and failings as well as their hopes."
I can't say I've ever really understood the point of the award. Still, it has gone to some fine films over time, and not ones necessarily with a spiritual agenda — from "Paris, Texas" to "Cache" — so I always thought it harmless enough. No more. This year, they've decided to mount their moral high horses by handing their first ever "anti-award" to Lars Von Trier's "Antichrist":
"We cannot be silent after what that movie does," said Radu Mihaileanu, a French filmmaker and head of an international jury that announced the awards Saturday.

In a statement, Mihaileanu said Antichrist is "the most misogynist movie from the self-proclaimed biggest director in the world," a reference to a statement by Danish filmmaker Lars Von Trier at a post-screening news conference. The movie, Mihaileanu added, says that the world has to burn women in order to save humanity.
I haven't seen "Antichrist." I have no idea yet whether it's a good film or not. But that's irrelevant. The audacity and smug self-righteousness of this gesture leaves a very bad taste in the mouth. What right have they to presume what a famously cryptic auteur is "saying" with his work, and then berate him on that assumption? What right have have they to make damning moral judgments on art that has yet to be interpreted by audiences at large? What right have they to impose moral parameters on art in the first place?
How on earth does such censoriousness have a place at one of the world's greatest forums for alternative cinema? We can read and dissect the film for ourselves, thank you very much. In the meantime, keep your bloody "anti-awards." Anyway, it kind of makes you hope "Antichrist" takes the Palme d'Or tomorrow, as unlikely as it may seem.
Oh, their "real" prize went to Ken Loach's "Looking for Eric." If you care.