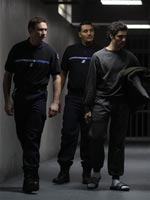 Anne Thompson confirms what had already been widely anticipated: Sony Pictures Classics has bought the rights to "A Prophet," Jacques Audiard's brutal prison drama that is the clear critics' darling of Cannes so far, and the current bookies' favorite for the Palme d'Or.
As mentioned last week, SPC has also acquired Michael Haneke's "The White Ribbon" and the awfully-titled French biopic "Coco Chanel and Igor Stravinsky" — not to be confused with Audrey Tautou starrer "Coco Before Chanel." It's a smaller collection of purchases than SPC made at last year's festival, but they seem to have picked wisely.
Thompson also wisely reminds awards-watchers not to be overly swayed by the Palme d'Or buzz for Audiard's film, something I've been thinking too. Cannes has a long history of surprise victors, and more often than not, the annointed critical favorite only lands a runner-up gong. Such was the case when "The Wind That Shakes the Barley" topped "Volver" three years ago, or when the massively polarising "Dancer in the Dark" beat out the universally adored "Yi Yi" in 2000.
It's worth bearing in mind that jury members are discouraged from reading the press throughout the festival, so they can vote with open minds. In other words, we have absolutely no idea what they're thinking. Of course, jury opinion and critical opinion have lined up for the last two years running, with "4 Months, 3 Weeks and 2 Days" and "The Class" emerging as roundly approved winners. There's no reason why "A Prophet" can't continue the trend, though I still think it could face twin drawbacks in its nationality and its all-male cast.
Meanwhile, the competition still looks feisty, with "Bright Star," "The White Ribbon," "Fish Tank" "The Time That Remains"  and "Vincere," among others, all drawing vocal support, and two films yet to screen.