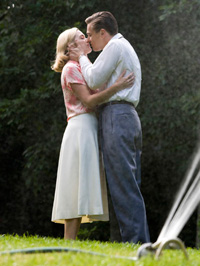 When "The Wizard of Oz" was released in 1939, neither audiences or critics were particularly fond of the film and it died a rather quick death at the box office. When "Citizen Kane" was first released in theatres in 1941, audiences did not warm to it, and despite winning the New York Film Critics Circle award for best film, and nine Academy Award nominations, it too died a fast death.
In 1956, John Ford's magnificent western "The Searchers" was not nominated for a single Academy Award, and though well liked at the time, no one seemed to think it was the work of art it is considered to be today. Even Martin Scorsese's "Raging Bull" did not find an audience when first released, and though the film had many strong reviews, no one thought iof it on the level they do today.
It happens all the time.  Great films get ignored by both audiences and film critics. And though it would be an obvious stretch to consider Sam Mendes's "Revolutionary Road" in the above company, it is nevertheless a perfect recent example.
True enough, some critics (myself included) admired "Revolutionary Road" when it was released, but there were simply not enough of us to get the word out. Not even the casting of Leonardo DiCaprio and Kate Winlet could help the film pull in audiences. Incredibly, the Hollywood Foriegn Press Association (their choices sometimes dubious at best) nominated the film for several awards and Kate Winslet rightfully won Best Actress in a Drama for her performance in the film. A couple of weeks later, collective jaws hit the floor when she was nominated for a leading actress Oscar, but for "The Reader," a lesser performance and film.
Earlier this week I received my DVD of the film, which hits shelves on June 2, and so I sat down at once to watch it again.  I made my way through the features, wanting to learn more and more about this astonishing film.  And it is my sincere hope that "Revolutionary Road" will some day come to be recognized for the sublime work of art it truly is.
It is not an easy film to watch, of course.  There are demands made on the audience and the journey of the characters is not a particularly light-hearted one. But we know people like this, some of us no doubt have been these people at one point or another in our lives, and that is what makes the film so remarkable to me…it captures life to utter perfection.  The emotions are raw, the film is full of anger and rage, regret and lost hope. There are dashed dreams here that make an extraordinary impact on the lives of all the characters, and when tragedy occurs, it is like a kick to the stomach.
Mendes had an incredible debut with "American Beauty" in 1999, though he had been something of a legend in the theater for several years. After a succesful premiere at the Toronto International Film Festival, "Beauty" became the hottest film of the fall, and come Oscar time, the picture was nominated for eight trophies and won five including a near sweep of top honors.
The director followed that with the exceptional gangster drama "Road to Perdition," which I thought was among the five best films of the year, containing an exceptional performance from Tom Hanks, cast against type as an Irish mafia hitman.  The Academy liked the film, to the tune of six nominations, and it won for the late Conrad L. Hall's superb cinematography, but nothing else.
"Jarhead," Mendes's take on US involvement in the Middle East, certainly had its moments, and it is visually superb.  But it never seemed to have a cohesive storylin, never allowed us to get close to the characters.
Leonardo DiCaprio has been growing steadily as an actor these last few years, after giving an amazing performance in "What's Easting Gilbert Grape?" and then becoming a superstar in "Titanic."  The last few years working with Martin Scorsese and Steven Spielberg, hehas become the finest young actor at work. He reminds me of a young Brando, with the innate ability to make every line coming out of his mouth sound like he was saying it for the very first time. There is an exciting, uncanny realism to his work.  He was outstanding in "Catch Me If You Can" and even better as Howard Hughes in "The Aviator."  Oddly, he was nominated for his fine work in "Blood Diamond" rather than his better work in "The Departed" for Scorsese in 2006.
Winslet, meanwhile, is working hard to be the next great actress of her generation, and frankly seems to be there. From "Sense and Sensibility" to "Titanic" up to her best work, before "Road," in Michel Gondry's "Eternal Sunshine of the Spotless Mind," she continues to amaze.
Though I have not yet seen "Away We Go," I consider "Revolutionary Road" to be the best film Mendes has made, and I include "American Beauty," which I suspect many people are wondering aloud how it won all those Oscars.  His direction is perfect.  He brilliantly explores a marriage in trouble at a time when divorce was a rarity.  There are superb supporting performances from Kathy Bates and Michael Shannon (eerie), but the film belongs to the two leads. There is genuine pain in their performances.
I loved the film in December, I mourned the fact that the Academy blew it by ignoring it, and I hope it will be discovered in years to come.  But as for the here and now, I'm happy to know it is a masterpiece.