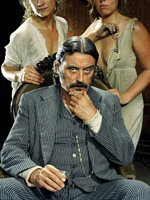 David Milch's "Deadwood" was, to my mind, the best show on TV until it was unceremoniously canceled in 2006.  It's heartbreaking that its many complex plot threads were left twisting in the wind and that, in all likelihood, Milch will never bother with the feature films he once promised would close the chapter on his western yarn.
As obsessed as I was with the series, I actually never picked up any of the seasons on DVD, though they were recently consolidated into a handsome set encapsulating the whole series.  Nothing on Blu-ray yet, but I'm sure I'll buy it if it ever makes the HD leap.
You might be like me, or you might have simply never seen the show and want to give it a look.  Well DirecTV is coming to your rescue.  Beginning May 31, the satellite company's 101 Network will begin re-airing the entire "Deadwood" series Sunday nights at 9:00pm (the show's old time slot at HBO).
Here's a brief synopsis from DirecTV:
The town of Deadwood, South Dakota in the weeks following the Custer massacre is a lawless sinkhole of crime and corruption. Into this uncivilized outpost ride a disillusioned and bitter ex-lawman, Wild Bill Hickok, and Seth Bullock, a man hoping to find a new start for himself. Both men find themselves quickly on opposite sides of the legal and moral fence from Al Swearengen, saloon owner, hotel operator, and incipient boss of Deadwood. The lives of these three intertwine with many others, the high-minded and the low-lifes who populate Deadwood in 1876. At its core, Deadwood® is a western with modern-day sensibilities, encapsulating the birth of capitalism, democracy, justice, and Good vs. Evil.
The 101 Network also came to the aid of "Friday Night Lights" last year, airing the third season before NBC finally picked the show back up (and subsequently re-aired that third season for those who don't have DirecTV).  Stuff like this makes me happy.