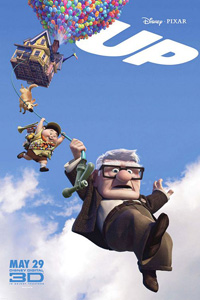 Watching Pixar Animation grow and develop as a studio has become almost more fascinating than experiencing one of the company's many creative films unfold on screen. Beginning with an industry leap in 1995's "Toy Story" and eventually moving into its daring own with 2008's "WALL-E," the studio has, at the very least, shown a desire for creative progression.
This naturally brings us to "Up," the next evolution in Pixar's insistence on growing up while maintaining the heart of a child. With its focus on relationships and the harsher realities of life, the film might well be the studio's most human production to date. While claims that the film is a high mark for emotional resonance might be a touch over-stated, "Up" is nevertheless a sterling entry in the studio's impressive streak of hits.
The film's unlikely hero is 78-year-old balloon salesman Carl Fredricksen, and a few moving early moments set the scene: Carl met his wife Ellie as a child, and being the shy sort, was immediately taken by her lust for life. They married, they endured loss (a single frame reveals an apparent miscarriage) and they vowed to one day travel to the exotic Paradise Falls made famous by their childhood hero, explorer Charles F. Muntz.
But, as the poet said, the best laid plans of mice and men often go awry. That brutal fact is creatively depicted in the consistent smashing of a giant savings jar for this or that fiscal emergency and eventually, life has passed the couple by, their dreams left unrealized, and when the narrative catches up to Carl following this brief montage, we see that loss weighing heavily in the form of a rather disagreeable disposition.
Carl has become, for lack of a better term, a grumpy old man. But obviously he has his reasons.  His wife is long dead.  His home, once situated in a cozy fairytale neighborhood, is now surrounded by eyesore development.  But he gets his kicks by sending Russell, an 8-year-old Wilderness Explorer, on a snipe hunt. (My fellow Boy Scout brethren will remember snipe hunts as the wild goose chases of the uninitiated.)
The meat of the narrative takes (literal) flight when Carl finds himself in the sticky situation of being whisked away to a retirement community after an unfortunate encounter with a construction worker. When representatives arrive to drag him off, a massive bundle of vibrant balloons slithers out the chimney and yanks Carl's home right off its foundation, out over the community that has passed him by and off to South America's Paradise Falls. But little did Carl know he's going to have an unexpected visitor on this journey: wide-eyed, optimistic Wilderness Explorer Russell.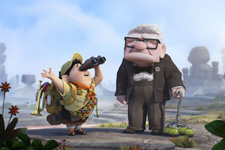 That, of course, is the obligatory film review plot setting, but "Up" truly begins to mean something when Carl and Russell reach their destination. And though the lesson that life is a journey, that the little things along the way make for the grand adventure might be a slightly clichéd thematic structure, directors Pete Docter and Bob Peterson make it work with a truly captivating narrative, one perhaps too creative for its own good.
In many ways, "Up" is the antithesis to "WALL-E." Last year's Pixar entry had a bold, relevant and clear theme that was somewhat hindered by a clunky, unsure narrative (an unpopular opinion, of course). "Up," meanwhile, has a fascinating, some might even say absurdist narrative that perhaps overwhelms an overly modest and malnourished theme, one that struggles consistently to push past the outrageous events on display.
All of that said, this might well be Pixar's funniest film to date.  And while it at times becomes rather obvious that the filmmakers struggled to build a narrative around the one image which sparked the fuse of "Up" (that of a grumpy man holding a bundle of balloons), it's strangely easy to go with the flow because of that trademark humor and wit.
But the film misses a number of opportunities.  The idea of heroes not always measuring up is flirted with, almost frustratingly so, and it would have been a captivating message for youngsters who will no doubt flock to the film.  When a villain is finally presented, it is a thin representation unbecoming of Pixar.  The meat of motivation isn't as clear as it could have been and a narrative that was trying to be about nuance is suddenly much more black and white.
Notions of father figures and their impact on sons are also touched upon, perhaps some of the most serious subject matter a Pixar film has dealt with.  But this comes in a quick burst in the film's third act rather than being an intriguing thread strewn throughout.  So when the emotion comes, it seems to come from a false place, evident by Ed Asner's rather flat voice performance toward the film's end.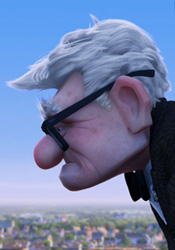 But there is a reason the film gets three and a half stars, and that is because it is utterly engaging.  No Pixar film has been this exciting since "The Incredibles," and you'd probably have to go back to "Toy Story" to find an entry that so clearly understands what will capture a child's imagination.  No small feat for a film being heralded as the studio's most adult to date.
For the most part, Asner's portrayal of Carl understandably fits like a glove.  But the talent across the board makes for the best Pixar ensemble since "Finding Nemo."  Jordan Nagai is pitch-perfect as Russell.  Peterson is hilarious as Dug, a noble pooch that will have adults and children alike laughing it up (and for different reasons).  And Christopher Plummer is effective as Muntz.  But this viewer perked up at the unmistakable voice of Delroy Lindo as Beta, one of the film's dastardly canines.  How is it no one has cast him for voice work before (outside of a single episode of "The Simpsons")?
By and large, "Up" is a big success for Pixar.  It doesn't rank alongside the studio's masterpieces but it is full of compelling ideas conveyed in an extraordinarily entertaining fashion.  And it deserves all the credit in the world for finally providing a touching audience connection to something tangible, rather than toys, bugs, monsters, fish, superheroes, cars, rats or robots (all of which worked in various ways).  For all its fantasy, "Up" isn't afraid to make humans the star.