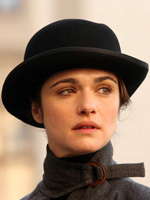 I should say at the top that I have not yet seen Rian Johnson's "The Brothers Bloom," but I was an absolute disciple of the director's 2005 debut "Brick."  That said, "Bloom" has always had a particular sheen to it that has obviously kept it from being a must-see since the first screenings began back in September of 2008.  Elbert Ventura, writing in Slate, may have pegged the reasoning, at least as it pertains to my taste:
Rian Johnson's caper comedy The Brothers Bloom begins its nationwide rollout already burdened with a reputation as an imitation of an American original. If Johnson's terrific debut, Brick, crackled with the borrowed brio of the Coen brothers, early notices for The Brothers Bloom have identified a new muse: Wes Anderson…

But The Brothers Bloom is only the latest addition to a burgeoning subgenre. Over the last few years, Anderson's movies have become touchstones for indie culture. In the 1990s, it seemed every NYU graduate and Sundance contender was making his own Tarantino knockoff. These days, the Tarantino imitators have been replaced by the Wes wannabes. A popular strain in recent American indie cinema has been the Andersonian quirkfest, a tendency that runs through movies like Juno, Napoleon Dynamite, Son of Rambow, Charlie Bartlett, and Garden State, among others.

The appropriation doesn't stop there. Anderson's trademarks—poker-face eccentricity, affection for the oddball, fastidiously arranged clutter, an affinity for the precocious and childlike—have now become conventions in the larger culture. You can glimpse his style and sensibility in TV shows, music videos and—a true sign that you've arrived—commercials.
Of course, I like one or two of those films, but as someone who considers nearly the whole of Wes Anderson's portfolio to be incredibly disposable, and as a guy from the film school generation Ventura indicates (and therefore, witnessed the development of this new "wannabe" culture), allow me to simply say: God help us. I won't pass judgment on "The Brothers Bloom" until I see it, of course, but items like this make it difficult to drum up enthusiasm.