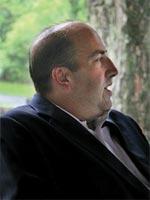 If you've seen Steven Soderbergh's "The Girlfriend Experience" (which opens in theaters tomorrow after being available On Demand and for Internet download since April 30), you no doubt remember former Premiere film critic Glenn Kenny's cameo performance as "The Erotic Connoisseur," an assayer of upscale prostitutes in New York who digs into Sasha Grey's call girl with fury toward the end of the film.
To me, it's a fantastic, biting portrayal that proves Kenny should try his hand at it once more.  Kenny has already written about this before, but as it turns out, he has now launched an exclusive series of set diaries, which kicked off yesterday at The Auteurs.  There is plenty of the critic/actor's dry wit to go around, but I particularly liked this passage, which follows a recounting of the initial phone call he received about taking the part:
A word, here, on my own acting career: Its major triumph was in my junior year of high school, playing The Silent King in Once Upon A Mattress, at Jefferson Township High, in 1976. So strongly did I prevail that I was considered pretty much a shoo-in for the lead role in Jefferson's 1977 dramatic offering, Dracula. But no. Even before auditions were announced, the drama coach informed me that I would not be getting the part, because, as he put it, I "lacked sex appeal." Which is a heckuva thing for an adult to say to any 17-year-old male, when you think about it. To add insult to injury, he handed the role to an individual even more awkward and gawky than myself. Who, not to make a bad pun or anything, sucked. And I was left to end my scholastic acting career in Jefferson's second production of '77, The Sound of Music, in the role of Uncle Max, which anyone can tell you is the most nothing part in the history of The American Musical Theater. Well. Now I would show that drama coach.
As one guy notes in the comments, Kenny's performance has already stirred some talk in the, as he puts it, "hobbyist" community.  Anyway, the diaries make for a great, if at times cruel (Harry Knowles gets an unnecessary dig), read, and I imagine there's more to come.  Check it all out here.  And my short review of the film, in case you missed it.