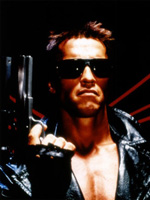 Before I tear into McG's "Terminator Salvation" in T-minus 10 minutes, I thought I'd offer one last sliver of positivity for those who, like me, love this franchise.  The always intrepid Nathaniel Rogers over at The Film Experience has been writing up a retrospective on the three entries in the series to date, with extended looks at the first and second films already up.  He'll be getting to "Terminator 3: Rise of the Machines" in due time, though I don't know if he'll be including "The Sarah Connor Chronicles' or not.
Here's his intro on 1984's "The Terminator":
In March of 1984 when The Terminator began filming, the director James Cameron and the producer Gale Ann Hurd were no Hollywood heavyweights. Cameron was no one's idea of a visionary (except for perhaps his own) and had only one feature under his belt, Piranha 2: The Spawning — auspicious beginnings! Hurd had learned the production ropes on B movies for Roger Corman. Cameron and Hurd intended for the dark, fast and cheaply made robot movie to be their calling card. Seven months later in October the movie premiered with only its deceptively simple premise (killer machine hunts woman) and Conan the Barbarian (Arnold Schwarzenegger) to sell it. The Terminator was an immediate hit, though not quite a blockbuster. It earned a Conan-like $38 million gross in its initial run (which I believe is something roughly in the ballpark of $90 million in 2009 ticket sales).

As a franchise it was a slow starter but as a stand alone movie The Terminator was anything but.
And on the 1991 follow-up:
The Terminator cost 6 million to make, Terminator 2: Judgment Day would cost 100 million plus. The budget wasn't the only thing exploding: salaries, visual effects, setpieces, ambition, and public reaction were all supersized. Yet for all of this exponential external growth, Cameron smartly kept his focus tight and intimate.

Sarah Connor's opening narration and the imagery of post-apocalyptic LA it plays over, both review the first movie and download Cameron's game plan for the sequel…

In other words, it's more of the same… only bigger (we notice immediately by way of shinier effects and massive fireball explosions). This repeat template is familiar but it won't be comfortable. We're also going deeper. The story structure is varied only enough to reflect the passage of time. But what has that passage of time wrought?
Check out each of the in-depth pieces over at The Film Experience.