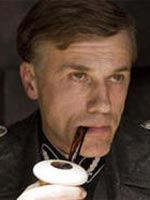 UPDATE: Jeff Wells's unenthusiastic take lines up with what I had personally feared from reading the script:
It's not great. It's a Quentin chit-chat personality film in World War II dress-up. It's arch and very confidently rendered from QT's end, but it's basically talk, talk, talk. Tension appears in a couple of scenes (especially the first — an interrogation of a French farmer by a German officer looking for hidden Jews) but overall story tension is fairly low. A couple of shootings occur but there's no real action in the Michael Mann sense of the term except for the finale. No characters are subjected to tests of characters by having to make hard choices and stand up for what they believe — they all just talk their heads off, is what it comes down to.
EARLIER: Total Film's two men on the spot are split on the film. Sam Ashurst finds his expectations happily exceeded, and seconds the good word for Christoph Watz:
This is Quentin's best film since Jackie Brown. It might even be his best film since Pulp Fiction … QT's magpie eye has never been sharper, swooping down on Italian cinema and plucking the very best shots, framing and music to create a deserving homage to the spaghetti westerns of my youth.

Make no mistake, this is Landa's (Watz's) film. He is the Blonde Jules of the movie; the stand-out character that will be on everyone's lips when they're walking out of the screen.
Meanwhile, his colleague Jonathan Dean is significantly less impressed, and reports "muted" applause from the screening:
While the opening, gripping chapter – set in a French peasant house in 1941 – is excellent and a final cinema (where else?) foyer scene is epic in its grandeur with sweeping cameras and impeccable set design, much of Basterds felt flat, with a schizophrenic spaghetti western style that blasts Ennio Morricone at the start and then David Bowie later on.

Thus, the Germans leer, the Americans are brave and the Brits posh. Enjoyable? Sure. But for 2 hours and 40 minutes it's a big ask to keep brattishness exhilarating.
EARLIER: /Film has a selection of early Twitter reactions, the most credible of which is Empire's take:
Glorious Basterds, as it turns out… very, very good, subverting expectations at every corner. Should make Michael Fassbender a star – C It's utterly unpredictable. When it looks like going one way, it twists the other, & the ending… so audacious it provokes giddy laughter. Christoph Waltz, as Jew Hunter Hans Landa, is a revelation. Shoo-in for Best Supporting Nom. Looks like evil Rob Brydon too. All performances are uniformly grand. Pitt's hilarious. And the film has two or three scenes that rival anything in QT's career for tension.
I hate Twitter, so beyond that, I'll wait for something where people are allowed to write in unrestricted sentences. Otherwise, views seem to be all over the map at this point. But anything that makes Michael Fassbender a star is fine by me.