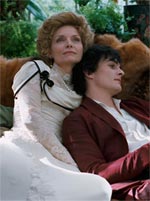 Jane Shilling has a piece at the Telegraph about the gender politics of "Chéri" — specifically, the social disruption engendered by a romantic relationship between a middle-aged woman and a young man.
Describing "Chéri" author Colette, and by extrapolation the character of Léa (played by Michelle Pfeiffer in the film), as "the original cougar," Shilling suggests that the story of her love for a man half her age is more provocative to a contemporary audience than the first readers of the 1920 source novel:
A couple of weeks ago in Grazia magazine an article appeared about a fascinating modern phenomenon. "Until recently," wrote the author, Rita Sangha, "a woman dating a much younger man was likely to be ridiculed. But things have changed. Thanks to stars like Madonna, a 'cougar' – an older woman dating a younger man – isn't seen as desperate: she's glamorous and in charge of her own destiny."

Perhaps, she would have been amused – though not surprised – to discover that the seductive alchemy of a love affair between a middle-aged woman and a boy young enough to be her son would seem even more scandalous in 2009 than it did when she sat down to write it, 90 years ago.
Shilling's rather sketchy argument fails to bridge these two contradictory points — how is the so-called "cougar" phenomenon both laudable and scandalous? — though that perhaps accidentally echoes Colette's own ambiguity on the matter. As I discussed in my Page to Screen article on the novel, Colette both defends Léa and Chéri's generation-crossing relationship, but condemns a similar dalliance by of one of Léa's peers as grotesque; the principal difference, it seems, lying in the two women's levels of physical attractiveness.
It's a still-prevalent double standard that the film throws into sharp relief. As I said in my review, Michelle Pfeiffer's performance is intelligent and courageous for the way it mines the vanities and insecurities of aging, but she can hardly avoid looking delicious throughout. No one I've spoken to about the film seemed especially scandalised by the love scenes between her and Rupert Friend; they are less provocative than they are genuinely sexy, successfully normalizing the age gap in a way that seems more daring in retrospect than in the moment.
In contrast, I think back to Roger Michell's 2003 drama "The Mother," which presented audiences with the unusual sight of homely 68 year-old character actress Anne Reid in bed with 34 year-old Daniel Craig. In the theater where I saw it, their love scenes provoked audible gasps and uncomfortable squirms. More than one of my peers, I recall, described the film as "gross." No such accusations are being levelled "Chéri's" way, as far as I'm aware; marking up this hypocrisy may just be one of the film's subtler accomplishments.