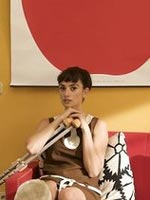 Pedro Almodovar's "Broken Embraces" has just had its Cannes debut, and the notices emerging so far largely supplement the good-but-not-ecstatic slate of reviews the film garnered upon its Spanish release back in March.
Kirk Honeycutt, in one of THR's slightly pointless video reviews, labels it "Almodovar lite" and discusses the film's allusions to "Peeping Tom" (not "an old 50s movie," by the way). Wendy Ide at the Times coolly calls it a "mixed bag of smart ideas … rather than a coherent, distinct work of art," while the Telegraph's David Gritten loves Penelope Cruz's performance, saying it excels her recent Oscar-winning work, but thinks the film "treads water rather than breaks new ground."
The case for the defence comes from Jeffrey Wells, who deems it by far the festival's standout film at this stage:
A romantic noir about writing, directing, damage and healing, it's easily the most fully realized, thematically satisfying, self-assured and purely entertaining film of the festival so far. Not as fully emotional as Almodovar's best films, but on a very high station in the second tier. Way in front of anything I've seen so far. The only thing that could knock it off is the Tarantino.
Not sure why or how he's dismissing the other titles he hasn't seen yet, but anyway. I have a feeling this is one film whose critical consensus could see-saw between now and its eventual U.S. release in November.
Perhaps a likelier contender for Cannes awards is Marco Bellocchio's "Vincere," a weighty biopic of Mussolini's historically-obscured first wife and child. I had been hearing that it's a solidly operatic piece of work with a strong, even award-level,  performance from Italian superstar Giovanna Mezzogiorno. Early reviews largely support the positive buzz, with Variety enthusing:
Momentous events require suitably powerful storytelling, which vet helmer Marco Bellocchio delivers in "Vincere" … a thrilling, at times brilliant piece of staging that never forgets the emotional pull of either the tragic personal tale or the ramifications of history. Structurally and tonally, the pic opens like "Gotterdammerung" and moves to the more ruminative "Siegfried," which means auds might feel the last quarter loses steam, but the arthouse crowd will still flock, at home and abroad

Both Mezzogiorno and (Filippo) Timi are perfectly cast. He's got Il Duce's grandstanding down pat, yet Timi's Mussolini is also frighteningly human. Mezzogiorno, moving and pathetic, pairs him beautifully: Her Ida is cultivated (as opposed to Rachele's coarse peasant accent) and intelligent, a woman battered by her brush with unfettered power.
ScreenDaily's Lee Marshall has some reservations about the film's melodramatics, but ultimately declares it a substantial success, for its leading lady in particular:
It's a curious but rousingly cinematic work that for all its flashy stylistic quirks is at heart as old-fashioned as its surging orchestral score. As a study of the personal tensions behind Italian history's grand events, Vincere lacks the sensitivity of the director's Aldo Moro kidnapping drama Buongiorno Notte; but as a stirring portrait of a woman wronged, it delivers the emotional goods … In the end, though, it's Mezzogiorno's sympathetic and unrestrained performance as a woman who was one of history's victims that gives an auteur's firework display its emotional heft.
Perhaps not the adrenaline shot Italy delivered to last year's competition with the one-two of "Gomorrah" and "Il Divo," then, but that would take some beating.