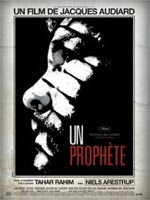 With 12 the 20 Cannes Competition titles out of the way (that's counting the already critically-examined "Broken Embraces"), a clear favorite seems to have emerged — and I'm both pleased and a little surprised that it's Jacques Audiard's "A Prophet."
Pleased, because Audiard is a brilliant filmmaker who is owed more recognition. Surprised, because on paper, I didn't expect an all-male, 2.5 hour prison drama to generate this much excitement. In the event, however, the film has inspired repeated comparisons to "GoodFellas," and ScreenDaily's critical panel rates it the best of the fest so far (closely followed by "Bright Star"), an endorsement echoed by a range of critics from Manohla Dargis to the Guardian's Xan Brooks.
Of the rest already screened, only "Bright Star" and British film "Fish Tank" really sound like viable Palme d'Or alternatives. Meanwhile, those two films' respective leading ladies, Abbie Cornish and Katie Jarvis, look to be heading a heated Best Actress contest. ("Vincere's" Giovanna Mezzogiorno and even "Antichrist's" Charlotte Gainsbourg are also in the mix.) By contrast, the only actor attracting major buzz at this stage appears to be Tahar Rahim, the young Arab discovery of "A Prophet."
Of course, nobody has any idea what the jury is thinking, while jurors are apparently discouraged from reading the press about Competition titles. So when awards are dealt out, surprises are the norm. I've thought from the beginning that "A Prophet," and indeed any other French titles in the lineup, were at a disadvantage; following last year's winner, jury prez Isabelle Huppert might want to avoid showing too much homeland favor. Meanwhile, can Audiard's entire male cast win over a mostly female jury? And with critical reactions so scattered, who knows what they make of "Antichrist?"
So many questions. And with several formidable titles still to bow (including the latest from Michael Haneke and Elia Suleiman, my personal, out-of-thin-air bet for the Palme), plenty more to come.