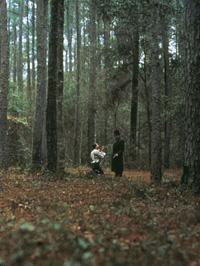 So here we go again.  The 1990s were an odd decade cinematically, ripe with excellent films, ground-breaking work, innovations as well as a large number of duds. There were also films released to rave reviews that never found an audience.
I combed through the decade and came up with 15 films worthy of discussion as the more under-appreciated of the 1990s, though I am positive you will all add immeasurably to the list, as you did with my take on the 1980s.
The independent movement gave us many great films through this span, as well as some formidable new talent, but I must confess I grew tired of the studio slagging through the decade.  Among the critical community it became almost a rite of passage. There was some wonderful studio product here and there, of course: "Goodfellas," "JFK," "Unforgiven," "Schindler's List," "Apollo 13," "Saving Private Ryan" and "LA Confidential" are just a few.
My list, in no particular order…
In "Miller's Crossing," the Coen brothers do a masterful job of creating a funny and dark gangster film with superb performances from the great Albert Finney, Marcia Gay Harden, and the sleazy John Turturro in a film that gently pulls the audience into its story. Made on the cheap, the art direction and costume designs are great, and that story…man those Coens get so much out of, "What's the rumpus?"
"The Sheltering Sky" was a stunning visual adaptation from Bernardo Bertolucci of the Paul Bowles story with John Malkovich and Debra Winger as a somewhat doomed married couple trying to find meaning in the deserts of Arabia. Bertolucci fills the screen with the most beautiful desert vistas seen since "Lawrence of Arabia," but also reminds us that the setting is a potentially lethal place, intensely hot, filled with death. Winger is extraordinary in her last great film performance and Timothy Spall, as always, is wonderful as a treacherous mother's boy.
Spike Lee's "Malcolm X" is a film that should have been a massive hit at the box office, and a major Oscar contender, but sadly Warner Bros. got behind Clint Eastwood's "Unforgiven" (granted, a masterpiece) and left Lee's film high and dry. Denzel Washington won the New York Film Critics Circle award for his performance as the dominant civil rights figure and he also deserved the Oscar.
"The Last of the Mohicans" is one of Michael Mann's very best films.  Loosely based on James Fenimore Cooper's iconic novel, the film follows the conflict between Hawkeye (Daniel Day-Lewis) and a vicious Indian using the British army as his pawns. Wes Studi is marvelous as Magua, the nasty villain of the film, and Day-Lewis is quite extraordinary (when is he not?) as well. Mann plunges his audiences back in history and proves as at home on the pathways through the forests of early America as he does on the highways of contemporary America.
Peter Weir's "Fearless" contains the most haunting airplane crash I have ever seen in a film, and I include "United 93." In one paralyzing shot we see the faces of the passengers facing certain death as the main character walks to the front of the plane to sit with a frightened boy who has a clear view into the cockpit. Jeff Bridges is Max, a survivor of the crash who struggles with bizarre feelings of invulnerability in the aftermath.  Excellent work from Tom Hulce and John Turturro also on display here.
"Ed Wood" is Tim Burton's best film hands down, a serio-comic biopic of director Ed Wood, judged by many to be the worst director in film history.  Had his talent matched his ambition, there might have been no stopping him, but Wood lived in a strange world with even stranger people surrounding him. Martin Landau gives one of the screen's all-time great performances as drug-addled actor Bela Lugosi at the end of his career, doing terrible films for fix cash. Bill Murray, Jeffrey Jones and Sarah Jessica Parker are all excellent in this bizarre black and white beauty.
Oliver Stone's stunning study of a complicated Commander-in-Chief in 1995's "Nixon" is a surprisingly touching and honest film, with Anthony Hopkins giving a wonderful performance as a deeply flawed man who reached the pinnacle of world power only to be undone by his own weaknesses. Shakespearean in tone, with Hopkins at his best despite looking nothing like the character, the film is a knockout. Hopkins captured, as one critic put it, "Nixon's wounded soul," while Joan Allen is drop-dead perfect as Pat Nixon. Paul Sorvino is excellent as Henry Kissinger and Ed Harris is quietly frightening as Howard Hunt. This is one of Stone's best.
Arthur Miller's massive play "The Crucible" is one of the finest of the 20th century and it made for a searing film, bolstered by an extraordinary Daniel Day-Lewis performance as John Proctor, one of the greatest roles ever written for a man. Director Nicolas Hytner opens the play up, but the emphasis is on performance, notably Joan Allen (again) as Proctor's wife, Paul Schofield as the judge, Winona Ryder as Abigail and Rob Campbell as the reverend who sees through a charade in an intensely theocratic society. Fox fumbled the release of the film, and what was one of the year's best disappeared from theaters weeks after release.
Atom Egoyan received a Best Director Oscar nomination for "The Sweet Hereafter," a haunting parable about a bus accident that robs a small town of all but one its children, a young girl, left crippled and enraged, portrayed well by Sarah Polley. Ian Holm is terrific as a lawyer who arrives looking for people to join his class action suit and finds a community in mourning. There is career-best work from Bruce Greenwood, Arsinee Khanjian, and Alberta Watson. This film was Kenneth Turan's choice as best film of the year in 1997 and finished second in voting with both the Los Angeles and New York Film critics' awards voting.
The very same year as Egoyan's masterwork, "The Apostle" was directed, written, acted and financed by Robert Duvall.  He tried for 13 years to get the film made, turned down by every major and minor studio before footing the bill himself. By then he knew the character so well it was second nature to him and he gave a volcanic performance as a flawed preacher trying to redeem himself by founding a new church in the deep south. Duvall is the film and gives one of the greatest performances ever put on film.  This one rocked the Toronto International Film Festival when first screened and started one of the most famous bidding wars in movie history that saw October Films victorious.
I saw Paul Thomas Anderson's "Boogie Nights" for the first time as an unfinished film at the Toronto Film Fest and was knocked out by the writer/director's talent. Merging the styles of Robert Altman and Martin Scorsese into something increibly unique, he created an energetic and wildly entertaining study of the porn industry in the 1970s and 1980s, when the business moved from film to video. A staggering ensemble cast including Julianne Moore, Burt Reynolds (never better), William H. Macy, Alfred Molina (terrifying), Heather Graham, and Mark Walberg (the weakest) create indelible characters based on real people in the business. Brilliant.
Remember "Bulworth?"  God I wish Warren Beatty would direct more films. He won an Oscar for "Reds," gave us the delightful "Dick Tracy" and this savage and biting political film that he co-wrote, produced, directed and stared in.  As Senator Jay Bulworth, who thinks he is going to be assassinated (by his own order) and therefore begins speaking exactly what is on his mind, Beatty is sensational.  Oscar worthy, even.  There are also strong performances from Halle Berry, Don Cheadle, and Paul Sorvino.
In "Magnola," Paul Thomas Anderson once again directed and wrote a bold, daring, magnificent, wildly original film, this one taking place over the course of 24 hours in California and dealing with several people whose lives inter-connect and will collide, in some ways forever altering them. Tom Cruise is simply electrifying as a sex guru forced to deal with life as never before when he learns his father is dying, while Julianne Moore is heartbreaking as a woman who is devastated at betraying her dying husband. William H. Macy is splendid as a former game show contestant still living on past laurels, while Melora Waters is quietly haunting as an abuse victim being wooed by a purely decent cop (John C. Reilly).
Dare I say it, David Fincher's "Fight Club" is as important to this generation as Kubrick's "A Clockwork Orange" back in 1971. A vicious attack on consumerism and government, the film is a masterpiece of cinematography, sound and film editing, anchored by two superb performances from Edward Norton and Brad Pitt. I remember sitting behind a well known Toronto radio personality at the press screening, who when the "twist" happened, threw his hands to his hand in shock. A dark and unsettling film that will in years to come gain in stature and hopefully be recognized as perhaps the most important film of the decade.
"Galaxy Quest" was a wonderful comedy that spoofed the "Star Trek" television series gently, while also being a pretty fine science-fiction thriller in its own right. Tim Allen heads a cast of former stars of a TV show that has been off the air for more than 20 years, but has inspired a cult following of fans that treat them like the Pope. When real aliens summon them for help, they get the chance to be the heroes they have always pretended to be.  It is a guilty pleasure to be sure, but also a very funny film that deserved a wider audience when released. Allen does a great riff on William Shatner while Alan Rickman is wonderful as a Shakespearean actor reduced to…ugh…television.
What are some of your favorite under-appreciated gems from the 1990s?  Have your say in the comments section below!