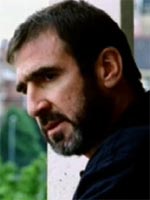 As I expected, Ken Loach's "Looking For Eric," his first Cannes entry since winning the Palme d'Or in 2006, hasn't exactly set the Croisette alight. Critics seem to agree that the football-themed comedy is a modest charmer, but too slight to really hold its own in the competition. (Probably a welcome shift in pace, what with critics still reeling from "Antichrist.") Variety's Derek Elley speaks for most of the critics with his kind but reserved take on the film:
Loach and writer Paul Laverty's ninth feature together is a curious hybrid: Three movies — boilerplate, socially aware Loach; personal fantasy; romantic comedy — wrap around a central core of a hopeless soccer fanatic who's given a second chance to sort out his life. As in many of Laverty's scripts, problems of overall tone and character development aren't solved by Loach's easygoing direction, though when it works, "Eric" has many incidental pleasures.
The Guardian's Peter Bradshaw also likes it well enough, drawing comparisons to "Play It Again, Sam," and describing the presence of football legend Eric Cantona — certainly the film's biggest commercial drawcard, in France especially — as "excellent comic value." The word "nice" is used at several points, which seems rather telling.
As much as I like the 72 year-old director's work — though it's been aeons since he made anything approaching the level of "Kes" or "Poor Cow" — one has to once more wonder whether this is the kind of film that really needs to be on the Palme d'Or shortlist, at the expense of bolder, less exposed talent.