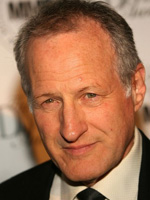 Maybe I'm slow on the uptake here, but I had no idea Johnny Depp has been circling the role of John Dillinger for 20 years now.  Chalk it up to one more reason to be chomping at the bit in anticipation of this summer's "Public Enemies" from director Michael Mann.
In this San Francisco Chronicle story, Ruthe Stein talks to the director about the film's coincidental timeliness (what with the general negative attitude toward banks in these troubling economic times), Mann's typical encouraging of his actors to heavily research their roles and the contention that the film glorifies a menace to society. There's even a bit where Mann defends Bale in the wake of the "Terminator" outburst (which was probably nothing compared to the shit-fits Mann has reportedly thrown on sets).
The most intriguing quote has to be this dissection of Depp by the director, leaving me to wonder whether Mann might have pulled a career-best performance out of the actor, whose grandfather was a bootlegger during the Depression and apparently served as an inspiration for the performance:
"A lot of what goes on inside Johnny Depp could be used and revealed," Mann said. "I know there are dark currents within Johnny and also from his past life, and I know he has a lot of John Dillinger inside of him. He has a deep understanding of a troubled past and a troubled life, but is someone who is a very passionate man. He could understand those currents in unique ways."
It's a great read.  Check out the full piece here.  As previously reported, "Public Enemies" will be the centerpiece presentation of this year's Los Angles Film Festival and will open nationwide on July 1.