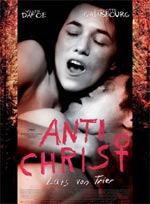 UPDATE: Sorry, my fascination is unending. The Guardian's Xan Brooks comes out in full support of the film:
I stumble out in a daze, momentarily unsure whether I loved it or loathed it. Abruptly I realise that I love it. Von Trier has slapped Cannes with an astonishing, extraordinary picture – shocking and comical; a funhouse of terrors (of primal nature, of female sexuality) that rattles the bones and fizzes the blood before bowing out with a presumptuous dedication to Andrei Tarkovsky that had sections of the crowd hooting in fury … Pound for pound, ("A Prophet") is surely the strongest film of the competition so far. Why, then, is it "Antichrist" that keeps me awake last night, whirling like a dervish in the darkness of the room?
EARLIER: Somehow I get the feeling that Lars Von Trier went to bed last night a very satisfied man. After the deafening indifference that greeted "The Boss Of It All" and "Manderlay," he arrived at Cannes with one objective more crucial than any other: to prove that his work could still inspire feeling and discussion. Point proven.
Whether or not "Antichrist" is as awful as some people seem to think — and indeed, not everyone does think so — is  beside the point. For all his genius (and I do think he is one of the most extraordinary filmmakers of his time), Von Trier shamelessly thrives on attention; when his work is ignored, as has been the case these past six years, his own creative mojo appears to flag. Much has been said about how "Antichrist" is the product of a recent bout of severe depression; perhaps his rediscovered capacity for provocation signals a renewed willingness to engage, and a more fruitful creative period to come.
At the very least, festival organisers will be sending him bouquets — this very polite first week at Cannes sure needed a talking-point. There are fewer flowers from the critics, though it's not all vicious. Time's Richard Corliss stands up for the film, even if he thinks it goes off the rails by the end:
The first half of Antichrist has enough storytelling vigor and sheen convince any critic, including those who thought von Trier went off the rails with his Dogville and Manderlay epics, that, hey, the guy can make a normal movie, and with the highest skill. There are visions here worth savoring, pure von Trier weirdo-magic, like the sight of Gainsbourg lying on the forest ground, willing herself to blend with the green … but von Trier doesn't have the craft to bring the moviegoer along in the most extreme parts of Antichrist. The thought was that we were being subject to the spectacle, not of a woman going mad, but of a director.
There's also praise for leading lady Charlotte Gainsbourg:
The actress's performance will be called daring, because of the sexual intensity in her trysts with Dafoe and a long, nude masturbation scene in the forest. But she's an acute judge of the woman's character in the subtler moments as well. Her face, which resembles the woodcut of an ancient warrior, can express all the stark shades of desperation the script requires.
The Hollywood Reporter's Peter Brunette is also sympathetic towards the film, even if he thinks it ultimately "falls apart":
Visually gorgeous to a fault and teeming with grandiose if often fascinating ideas that overwhelm the modest story that serves as their vehicle, this may be the least artistically successful film von Trier has ever made. As such, commercial prospects appear slim, though many of the auteur's most ardent fans will want to see the film anyway. And they should.

The film works much better on a purely visual level, if only viewers were able to forget that these are real people being represented in these voluptuous images, abetted by an often superb sound design. From the opening titles, abstract expressionism reigns powerfully and conveys a great deal of intense, if finally unspecifiable, meaning. Unfortunately at some point a story has to be told, no matter how minimalist, and with actual human beings, no matter how symbolically freighted.
Todd McCarthy, on the other hand, simply goes straight for the jugular:
Lars von Trier cuts a big fat art-film fart with "Antichrist." As if deliberately courting critical abuse, the Danish bad boy densely packs this theological-psychological horror opus with grotesque, self-consciously provocative images that might have impressed even Hieronymus Bosch … most of the director's usual fans will find this outing risible, off-putting or both — derisive hoots were much in evidence during and after the Cannes press screening — while the artiness quotient is far too high for mainstream-gore groupies.
There's little for it than to eventually see the film and make up one's own mind. I have no idea where I'll land, but I'm glad Von Trier is forcing people into active argument and analysis — "Antichrist" has already drawn some of the most compelling writing to emerge from the festival so far.
Allow to me to close on an unrelated mini-rant, however, which is that I am sick to death of critics chiding Von Trier for his apparently rampant "misogyny." Last I checked, Von Trier had written three of the most demanding, expansive female lead roles in recent film history — Bess in "Breaking the Waves," Selma in "Dancer in the Dark" and Grace in "Dogville" — all of which critically investigated the prejudices faced by women in different facets of everyday society, and furthermore inspired monumental, film-carrying performances from the women inhabiting them.
Is he tough on his female characters? Yes, though the suffering he inflicts upon them has a blindingly obvious thematic purpose. Is he even tougher on his actresses? Apparently so, though the rewards are no less conspicuous. But he is inarguably fascinated by women, and has spent an awful lot of time indulging that fascination on screen. If that makes him more misogynistic than the vast amount of Hollywood filmmakers so uninterested in women that they can barely cook up a supporting role for one that fulfils more than a single stereotype at a time, then so be it. But "misogyny" ain't just a fancy arthouse term, you know.