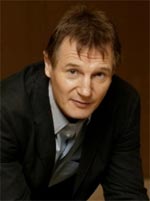 The Liam Neeson career revival continues apace. Variety reports that the 56 year-old thesp will star opposite Jennifer Connelly in "What's Wrong With Virginia," the first directorial effort from "Milk" scribe Dustin Lance Black. The film, which has Gus Van Sant involved as an executive producer, which begins shooting this summer. The pitch goes as follows:
Connelly will play the charming but psychologically disturbed mother of a 16-year-old son. Her 20-year clandestine love with a sheriff (Neeson), who is running for the state senate, is tested when her son begins a relationship with his daughter.
Sounds to me like a return for Black to the quirky domestic territory of "Big Love." Is this a comedy of sorts? Certain details (that title, for starters) imply that to me, though it isn't made clear in the report. Either way, Neeson and Connelly aren't exactly the first pairing I'd think of for an onscreen romance — so, well, interesting.
We're also reminded that Black and Van Sant are collaborating once more on an adaptation of Tom Wolfe's "The Electric Kool-Aid Acid Test," which is an ambitious undertaking to say the least. You may remember that I wasn't exactly sold on Black's Oscar-winning efforts on "Milk," but good on him for using his post-win momentum to get as many irons in the fire as possible.