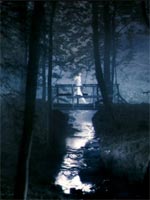 Curiouser and curiouser. Roger Ebert is clearly still processing Lars Von Trier's latest crowd-terroriser, but there appears to be respect in his initial assessment:
Whether this is a bad, good or great film is entirely beside the point. It is an audacious spit in the eye of society. It says we harbor an undreamed-of capacity for evil. It transforms a psychological treatment into torture undreamed of in the dungeons of history. Torturers might have been capable of such actions, but they would have lacked the imagination. Von Trier is not so much making a film about violence as making a film to inflict violence upon us, perhaps as a salutary experience. It's been reported that he suffered from depression during and after the film. You can tell. This is the most despairing film I've ever have seen.

What can be said is that von Trier, after what many found the agonizing boredom of his previous Cannes films "Dogville" and "Manderlay," has made a film that is not boring. Unendurable, perhaps, but not boring. For relief I am looking forward to the overnight reviews of those who think they can explain exactly what it means. In this case, perhaps, a film should not mean, but be.
There is no film on the planet that I want to see more, right now, than "Antichrist."