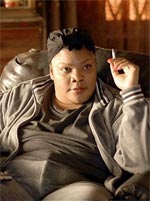 Since it was announced that it would be playing the Un Certain Regard strand at Cannes, I've been interested to see how Lee Daniels' "Precious" would play on this side of the Atlantic.
Though the film was an all-round sensation at Sundance back in January, I wasn't sure if it would receive the same level of adulation here, where there traditionally isn't much of an audience for U.S. urban-based stories.
Moreover, the film's biggest talking-point at Sundance — Mo'Nique's surprise-attack performance — risked being diluted in Europe, where I suspect few people know who the comedienne is. (It's telling that the Cannes media has focused far more on Mariah Carey's de-glamming.)
All of which hasn't appeared to matter one jot, as the film screened last night to a rapturous standing ovation, making it one of the heavy favorites for the Un Certain Regard award, which has boosted such arthouse fare as "The Band's Visit" and "The Death of Mr. Lazarescu" in recent years.
That "Precious" has been so warmly embraced in a critical environment not particularly predisposed towards such a film speaks volumes. Could its awards prospects go beyond that increasingly likely-looking Best Supporting Actress bid for Mo'Nique? A Best Adapted Screenplay nod, or Best Actress for Gabourey Sidibe, are certainly in the realm of possibility. A Best Picture bid seems to me a bit too great a leap for the Academy at this stage, but as long as the film keeps slaying audiences like this, who knows?