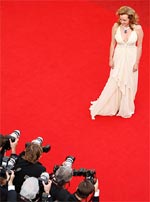 • Kicking off a Cannes-loaded week, we offered a two-part profile of this year's contenders for the Palme d'Or.
• Meanwhile, this week's Top Ten list reflected on the greatest runners-up in the festival's history.
• As "Up" opened the festival, Pixar maintained its recent critical streak.
• Within the competition, however, it's two films from female auteurs — "Bright Star" and "Fish Tank" — that have critics buzzing.
• Away from the Croisette, there was lots of talk about "The Road" this week, with a new trailer and early review.
• In a neat coincidence, "The Road" was also the subject of this week's Page to Screen column.
• In a major week for debuting trailers, we also got a look at two very different hot properties: "Nine" and "Precious."
• Ahead of its June U.S. release, we reviewed Michelle Pfeiffer's comeback vehicle "Chéri'."
• We looked into the box office success of "Star Trek."
• We revisited some buried treasures from the 1980s.
• And finally: is the theatrical experience overrated? Have your say here.