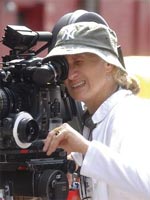 That Jane Campion is one of three female auteurs competing for the Palme d'Or at Cannes this year is seen as a relative step up for the fairer sex compared to years past, though by any logical standards, a 3-to-17 ratio is still an indication of a globally male-biased industry.
Campion, however, has an interesting take on the matter: though she blames studio sexism to an extent, though she thinks women themselves have some responsibility for the situation. Noting that the imbalance begins as early as the film school stage, she wondered at a Cannes press conference whether her female peers are more easily deterred by criticism:
I would love to see more women directors because they represent half of the population and gave birth to the whole world … Without them the rest are not getting to know the whole story. I think women don't grow up with the kind of criticism that men grow up with. We are more sensitively treated. It is quite harsh when you first experience the world of film-making — you have to have a tough skin. My suspicion is that women are not used to that. We must put on our coats of armour and get going because we need them [female directors].
I'm neither agreeing nor disagreeing, but from a successful auteur who has endured her share of criticism in past years, it's an interesting perspective. Thankfully, considering the wealth of high-profile female-directed projects in the wings this year — from "Bright Star" to "The Hurt Locker" to "An Education" — things may be looking up.
Meanwhile, strong reviews for Campion's film continue to pour in; Todd McCarthy calls it an "impressive return" for Jane Campion, and amps up the buzz for star Abbie Cornish. U.S. distribution rights were snapped up a few days ago by ex-Picturehouse chief Bob Berney and Bill Pohlad's new outfit.