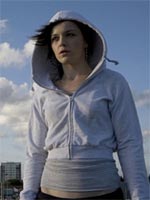 Only two films in so far, but it seems we have a formidable contender for the festival's top honors in the shape of Andrea Arnold's "Fish Tank." The film has just screened for the press, and Arnold — who won the bronze-medal Jury Prize in 2006 with her debut feature "Red Road" — has evidently built on that success, but it seems the real revelation is the film's 17 year-old star, Katie Jarvis.
A non-professional making her screen debut, Jarvis is unable to attend the festival, having just given birth to her first child in her Essex hometown. But even in her absence, the young lady is generating enough to buzz to plant her as a strong contender for the Best Actress  award. IndieWire's Eugene Hernandez calls her "the first major acting discovery" of the festival, while Screen International's Allan Hunter gushes:
Following in the wake of Kate Dickie's extraordinary performance in Red Road, newcomer Katie Jarvis is every bit as impressive as Mia, finding the vulnerability of the teenager without recourse to sentimentality or surrendering any of her anger or sarcasm. It is a performance that should win her a lot of attention and add profile to a film that will have to fight for its audience.
There's also effusive praise from Hunter for Jarvis's significantly more established co-star, "Hunger" sensation Michael Fassbender, and the film itself, which he compares to the works of Ken Loach and the Dardenne brothers in "finding the poetic moments in even the bleakest of lives."
Wendy Ide at the Times of London completely concurs, describing Jarvis's performance as "tremendous," and commending Arnold for being "sympathetic to the subtlest flickers in the performances of her actors."
The film certainly doesn't sound like an easy sit — like this year's Sundance sensation "Precious," it focuses on a lower-class teenage girl damaged by physical and emotional abuse from her loveless mother. (Matters are made even more grim when she falls in love with her mother's charismatic new boyfriend, played by Fassbender.)
Speaking of "Precious," following the Sundance acclaim for that film's star Gabourey Sidibe and "An Education" ingenue Carey Mulligan, this marks the third wave of festival buzz for a young actress playing a teenage protagonist this year. Interestingly, Jarvis was spotted by a casting director while having a heated argument with her boyfriend (and father of her newborn baby) on a railway station platform. Now there's a story for you.