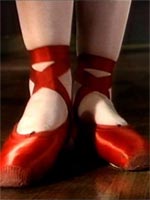 I'm willing to lay a substantial bet that there won't be a better film screened at this year's Cannes festival that the brand-new restoration of Michael Powell and Emeric Pressburger's 1948 ballet-drama-cum-fairytale "The Red Shoes." Easily one of the most exquisitely designed works ever put to celluloid, and a jewel in the crown of the great (and recently departed) DP Jack Cardiff's career, it's a film I've loved since childhood that never fails to show me something new upon each visit.
The fully restored print will be introduced tomorrow on the Croisette by Martin Scorsese, who arranged and funded the restoration with his longtime editor (and, of course, Powell's widow) Thelma Schoonmaker. Anyone familiar with Scorsese's career likely knows the deep affinity the director has for Powell and Pressburger's work, and there's a nice piece in today's Guardian in which he discusses the influence the British team had on his own creative development, as well as his personal friendship with Powell himself:
I had to explain to him that his work was a great source of inspiration for a whole new generation of film-makers – myself, Spielberg, Paul Schrader, Coppola, De Palma. We would talk about his films in Los Angeles often. They were a lifeblood to us, at a time when the films were not necessarily immediately available. He had no idea this was all happening.
Apparently, Scorsese and Schoonmaker plan to restore more works in the Powell/Pressburger canon down the line. Bless them. For my part, I'll be seeing the restoration at next month's Edinburgh Film Festival. There's something to look forward to.