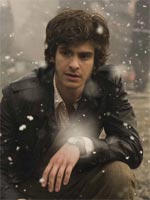 Here's some fantastic news. You may remember that, a couple of months ago, I totally flipped for "Red Riding," a trilogy of British TV movies deftly adapted from David Peace's quartet of crime novels about the Yorkshire Ripper murders of the 70s and early 80s.
Actually, to be specific, I went crazy for the first film in the trilogy, Julian Jarrold's "1974," a haunting, exquisitely realized mood piece with a sterling cast led by rising Brit stars Andrew Garfield and Rebecca Hall — the latter's sad, sensual performance even topping her breakthrough work in "Vicky Cristina Barcelona." The next two films, helmed by Oscar-winner James Marsh and Anand Tucker respectively, were strong pieces of work too, but it's Jarrold's film that I can't shake from my system.
Anyway, I said at the time that the film belonged on a bigger screen, and I've got my wish. Fresh from their acquisition of another outstanding Brit TV effort, Oliver Hirschbiegel's Sundance winner "Five Minutes of Heaven," IFC has picked up the U.S. rights to the entire trilogy:
IFC plans to release The Red Riding Trilogy this autumn in theatres and on demand through its IFC In Theaters platform following a festival circuit run.

IFC Entertainment president Jonathan Sehring called The Red Riding "an absolutely thrilling work of cinema and one of the great true crime adaptations of recent times.
So justice is done. You'll see what I mean in the fall. A brief taster after the cut.