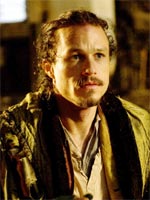 It may not be in the Competition lineup, but Terry Gilliam's "The Imaginarium of Doctor Parnassus" is surely one of the most eagerly — and curiously — awaited films of the Cannes festival. The bulk of the interest, of course, rests on the unfinished final screen performance of Heath Ledger, and how (or, indeed, if) Gilliam's audacious strategy of completing the late thesp's characterisation with contributions from three other actors will work.
All will be revealed when the film makes its Cannes debut next Friday, but for now, Gilliam talks up "Parnassus" in an interesting interview with the Times of London — and the famously bolshy director minces no words when it comes to his awards hopes from the film:
The planned release date for Doctor Parnassus is in the autumn. "We want to be in that last third for the Academy Awards! Maybe we'll get another award for Heath. We're going to get as many awards as possible for him, long after he's gone."
Meanwhile, he's confident that Jude Law, Johnny Depp and Colin Farrell's continuation of Ledger's role is a success, both in terms of artistry and commercial viability:
We were lucky because we have a magic mirror in this movie. Not every movie has a magic mirror. So you can very genuinely say that these other actors are different aspects of the character that Heath plays. And it works. The point was, we've got to keep going. It was a bit like half being there, but apparently on autopilot I can still do a few things … It's a hard thing to do, walk into a character and take over. But they did it.
Of course, with Gilliam, you never know whether he's bluffing or not. I must admit that, as intrigued as I am to see the results, awards have been the furthest thing from my mind with this project, if only because Gilliam represents everything that AMPAS voters run from in terror. Perhaps he's relenting — he admits in the interview to being genuinely honored by his recent BAFTA career achievement award, even if he takes issue with the way it was presented. Read the rest here.