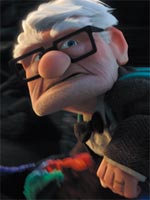 So as is the norm with Pixar productions, "Up" is apparently capturing the heart of virtually every critic it encounters. Jeff Wells offered a few mild caveats, but he was largely won over as well. So I was interested to read Kaleem Aftad's three-star review in the Independent, which offers the first hard-and-fast criticism of the film I've seen to date:
Watching with tinted glasses cannot hide the deficiencies of this adventure. It is increasingly apparent that Pixar is a company that operates best when dealing with nostalgia. Like the outfit's previous film, WALL-E, Up is superb in setting up characters and a world that hankers over memories of yesteryear, but once the adventure moves into its obligatory action denouement, it enters a world of stereotypes that disappoints.

Indeed, action sequences have been Pixar's Achilles' heel, with overly long and tedious effects letting down Cars and The Incredibles. In Up, the blockbuster moments that should be of Around the World in 80 Days proportions are instead surprisingly uninventive.

Apart from the kooky animals (nowhere near as endearing as The Jungle Book ones), the destination is a boring land of plateaus and uninspiring forests. Muntz pops up as a Wizard of Oz-inspired villain. The nostalgic past is replaced by a horrible sentimental present that lacks emotional punch.
Not having seen the film, I have no idea how valid these jabs are, but it's useful to get some perspective. Interestingly, unlike several critics who are signficantly more enthusiastic about the film, Aftad has no problem whatsoever with the film's 3-D element, justifying it on the grounds that it emphasises "optical reality rather than just an eye-popping spectacle."
In contrast, the Guardian's Xan Brooks, who loves the film, sides with Roger Ebert, complaining: "It's a film that was always going to come in three dimensions, no matter what digital wizardry they garnished it with."