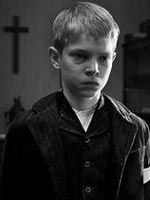 One day into the Cannes festival and the gears of commerce are already grinding, with Sony Pictures Classics looking particularly alert. The independent outfit announced two substantial acquisitions today, most notably Michael Haneke's "The White Ribbon," a period drama themed around issues of fascism and community that is one of the bookies' favorites for the Palme d'Or.
SPC have pretty good instincts on the Croisette — last year's purchases included "The Class" and "Waltz With Bashir." As with Haneke's last film, "Caché," they will be handling all North American distribution, and they appear to have high hopes for the film. Here's an extract from the press release:
The White Ribbon is set just prior to the start of WWI, where the quiet life of a small German village is mysteriously eroded by a series of inexplicable events. The film is a co-production between X-Filme Creative Pool in Germany, Les Films du Losange in France, Wega Film in Austria and Lucky Red in Italy. THE WHITE RIBBON was produced by Margaret Menegoz (CACHÉ, Funny Games), Stefan Arndt (Run Lola Run, Goodbye, Lenin!), Veit Heiduschka and Michael Katz.

"We have been pursuing THE WHITE RIBBON since it was a kernel of an idea in Michael Haneke's mind. We are convinced this is his masterwork. It is a privilege and a pleasure to be releasing Michael's latest film and to work again with him and his amazing producers Margaret Menegoz and Stefan Arndt," said SPC in a statement.
Not content with that coup, Sony has also nabbed U.S. rights to the festival's closing film, "Coco Chanel and Igor Stravinsky." (Not exactly that catchiest title, that.) Starring Danish star Mads Mikkelsen and telling the story of the affair between the two eponymous cultural icons, it is not to be confused with Anne Fontaine's Audrey Tautou-starring biopic "Coco Avant Chanel," which SPC is also distributing Stateside — as savvy commenter Glenn points out, this is likely a move to prevent a head-to-head biopic battle.