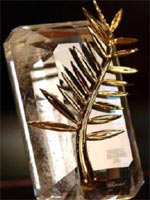 There's a bewildering wealth of quality Cannes coverage out there, and it tests the realms of possibility to mention it all. In the interests of economy, however, here's a selection of the more interesting festival-related nuggets I found today:
Eugene Hernandez at IndieWire has a superb piece up in which he approaches a broad selection of industry figures and bloggerfolk with the question of whether Cannes matters much these days. The response of many is sad yet predictable: that the festival does indeed matter from the purist's perspective of showcasing artistically nourishing films, but that with the commercial window for foreign and/or arthouse fare increasingly narrowing, it has less bearing on the U.S. market than it should. Still, I liked the succinctly idealistic take of one interviewee: "When Cannes no longer matters, film will no longer matter."
Back to the films themselves, the New York Times' Joan Dupont offers her own rundown of the key titles in the mix, picking up, as others have,on the prevalence of controversial auteurs in this year's lineup. She also provokes this soundbite from the fest's executive director Thierry Frémaux, explaining why this year's Competition line-up is so heavy on previous winners and established names:
"Yes, the big names are back, and with big films … The selection reflects our concern for auteurs — that's our job. You need to be strong to be in competition; everybody's watching you. That's why we think that many films are better off in Un Certain Regard. The filmmakers don't always agree."
I can't say I agree, either. It's precisely two decades since a miniature character study from a 26 year-old first-time director walked off the Palme d'Or and changed the face of American independent filmmaking in the process — would Steven Soderbergh have been relegated to the Un Certain Regard sidebar today? I suspect so, and that demonstrates a cautiousness that can only curb Cannes' capacity for trend-setting.
Speaking of caution — or rather, lack thereof — it would appear that while Gaspar Noé's "Enter the Void" is one of the most curiously awaited films of the fest, the French enfant terrible has already set his mind on his next project: a "joyful porn movie." Though the "Irreversible" director has played down the controversy-generating potential of his latest film, Screen Daily reports that he has no such agenda for next effort, citing his desire to "mix both real emotions and explicit sex … portrayed for the joy it brings."
Elsewhere, the Hollywood Reporter's Stuart Kemp chats to some of the festival jurors, and points out an interesting (and encouraging) statistic I hadn't seen noted before: that women outweigh men on this year's panel, which in addition to president Isabelle Huppert, includes such formidable females as Robin Wright Penn (taking over from her husband's jury duty last year) and Asia Argento. Meanwhile, one notable male juror — the famed British author and screenwriter of "My Beautiful Laundrette" — endures the further slight of having his name mispelled "Hanoi Karachi."
Finally, if all you're after is a bit more wild punditry about who will win the Palme d'Or, the Guardian's Peter Bradshaw and Xan Brooks offer some hesitant guesses here. Bradshaw expresses his doubts about "Inglourious Basterds" and suggests that it may be an Asian director's turn this year — Lou Ye, in particular. Makes as much sense as anything else right now.
Incidentally, Lou Ye's film, "Spring Fever," is one of two Competition titles premiering tomorrow, the other being Andrea Arnold's "Fish Tank," which also arrives with great expectations. Also bowing tomorrow: Coppola's "Tetro." Check out the screening schedule here if you want to keep up.