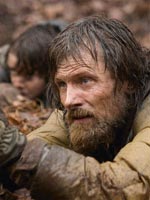 We've certainly waited a while to get any substantial word on "The Road," not least since it got pushed back by an entire year to ease the pressure of post-production. John Hillcoat's film screened in unfinished form late last year, provoking a scattering of commentary — the Film Experience's Nathaniel Rogers offered some interesting thoughts, though sensibly held off on any detailed critique — but the film has remained something of a mystery.
Now, amid an interesting profile of the film, Esquire magazine's Tom Chiarella has gone on the record as saying it's good — very good indeed. Though he admits the film is a harrowing sit (as it well should be) that you won't necessarily want to endure more than once, he's full of admiration for the film as a fundamental piece of storytelling:
The Road is no tease. It is a brilliantly directed adaptation of a beloved novel, a delicate and anachronistically loving look at the immodest and brutish end of us all. You want them to get there, you want them to get there, you want them to get there — and yet you do not want it, any of it, to end.

You should see it for the simplest of reasons: Because it is a good story. Not because it may be important. Not because it is unforgettable, unyielding. Not because it horrifies. Not because the score is creepily spiritual. Not because it is littered with small lines of dialogue you will remember later. Not because it contains warnings against our own demise. All of that is so. Don't see it just because you loved the book. The movie stands alone.
Viggo Mortensen, meanwhile, comes in for equally enthusiastic praise, and I'm pleased to read it. To my mind, Mortensen couldn't be any more ideally cast, and after last year's anticipated banner year for the thesp fizzled out, I'd like to see him really knock this one out the park. According to Chiarella, he does:
Mortensen is brilliant in insinuating the father's pain and communicating the hints of loss and his resistance to the inevitable. Burnt and sinewy in each scene, he registers a liquid panic in every glance at the woods and a sort of angry regret in every peek at the boy. Mortensen is a different filthy man in each function of fatherhood. You recognize them all, without voice-over, without undue exposition. He still cares. And it hurts more than ever to care.
It's a good read throughout: Chiarella also goes into the challenges the novel poses for cinematic treatment, something I'll be discussing in our weekly Page to Screen column tomorrow. This really is one of the year's most intriguing adaptations; until we can see it for ourselves, this article should prompt some relieved sighs from the novel's multiple devotees. Check it out here.