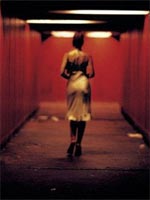 Yours truly began a two-part Cannes preview this morning, but there is plenty more such coverage around if you're beginning to get festival fever. I particularly liked Jonathan Romney's rundown in the Independent, in which the critic points out an interesting trend in this year's lineup: namely the convergence of several renowned enfants terribles in one year.
There's almost always one title in contention whose extremities — whether of sex, violence or other — set tongues wagging along the Croisette, but this year looks to be particularly hard on the faint-hearted. Quentin Tarantino's bound-to-be-grisly "Inglourious Basterds" looks positively milquetoast compared some of the other fare on offer, including "Oldboy" director Park Chan-Wook's decidedly adult vampire tale "Thirst" and Lars Von Trier's seemingly unnerving foray into horror territory, "Antichrist."
Michael Haneke's new effort doesn't look like a box of kittens either, but as Romney writes, none of these filmmakers instil quite as much fear in mild-mannered filmgoers as Frenchman Gaspar Noé:
These days, the shocks come a little stiffer. A hardened colleague of mine walked out of Gaspar Noé's Irréversible (2002) after the opening salvo of 13 blows to the head with a fire extinguisher – thereby missing considerably worse to follow … With Enter the Void, it's more than likely that he'll attempt to up the ante on Irréversible. Touted as "a hallucinatory maelstrom", it involves a stripper's brother who reviews the violent circumstances of his death, from the afterlife. Laden with special effects and screeching neon colours, Noé has promised it will be more psychedelic than violent – but at two-and-a-half hours, it certainly won't be an easy ride.
I'm interested to see whether Noé can build more critical cache this year beyond the controversy that greeted his previous work — for all its look-at-me theatrics, "Irréversible" is a much better film than it's usually given credit for. With several other title jostling for the attention of the more excitable media outlets this year, perhaps there's more of a chance people will find the film beneath the fuss.
And as Romney points out, if anyone can handle it, it's a jury that includes such notably fearless figures as Isabelle Huppert and Asia Argento. Bring it on.