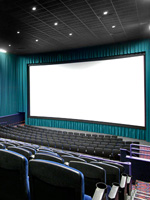 Time to be perfectly honest.  I get a little irritated every time someone talks to me about the "sanctity" of a movie theater.  The "house of worship" B.S. that tends to precede a holier-than-thou, painfully romanticized assessment of seeing films on the big screen, in a packed house, it just rings a terribly false note with me.  Maybe I'm getting older and crankier.
Maybe I've been spoiled by years upon years of seeing films in studio screening rooms surrounded by a handful of people who know how to shut the hell up for two hours (though you'd be surprised).  Whatever the reason, one thing is for sure: if your line is that seeing a film in a movie theater with the public is the only way to see a film, I'm not buying.
This was more or less the point of Noah Forrest's recent piece at Movie City News, and though Forrest gets smacked around from time to time for going against the grain, I'm arm-in-arm with him on this one, and I'm glad someone in his racket said it.  Here's a taste:
My problem remains that going to the movies now doesn't offer much of an escape. And if you're a kid, you might not want to blow all your allowance money for a single movie ticket and then break open the piggy-bank if you want some popcorn and a soda. And if you're an adult, you're stuck watching movies that are either out of focus or not properly displayed on the screen amidst a sea of rude people who will gladly put their stinky shoes right next to your face while they text message their friends about how bored they are…

The problem of cell phones is not merely the nuisance of being around someone who is texting, calling or twittering constantly but the concept that people are bringing the outside world into a movie theater. For me, going to the movies was a sacred experience; again, not just watching the movie but watching the faces of the people around me and laughing with an audience or crying with an audience. Now, I find myself resenting the audience I'm around because they don't want to immerse themselves fully in the film; they want to do business or talk to friends on their phones while the movie plays in the background. I understand bringing a cell phone with you and keeping it on silent in case of an emergency or if you might use it as a watch, but you should be in that theater to watch a movie – or to make out, which is fine with me as long as you're not puckering too loudly.
I'd like to add to this the typical theater employee's general lack of knowledge (practical knowledge, mind you) on the exhibition of filmed entertainment.  I still remember the disappointing (though that isn't the point) summer blockbuster from 2001 that had apparently played for two solid weeks in the same house with the friggin' widescreen flaps concealing the outer edges of the screen.  When I when into the lobby and told one of the employees that this was a scope film, he seemed to have no idea what I was talking about.  (This is speaking generally, mind you.  There are theaters, most especially the Arclight here in Los Angeles, that take this stuff seriously.)
Anyway, Forrest then moves into the inevitable point that the home-viewing experience is getting better and better in the face of the decline of the theatrical experience.  And this, in my opinion, is the saving grace of distribution at the moment.  I'd much rather spend money developing my home theater package than dropping 10 bucks at the movie theater.  Sacrilege, I know.  Sue me.
Read the rest of Forrest's piece here.