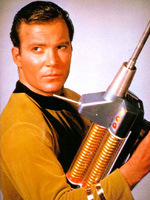 David Hinckley, writing in the New York Daily News, has taken the release of "Star Trek," the upcoming release of "Terminator Salvation" and Wednesday night's season five finale of television's "Lost" (can't…wait) to champion the age of geek in a more thoughtful way than you might imagine.  It's become perhaps a bit too easy to say things like "the future is now," but spinning off on his own (arguably stretching) tangent, Hinckley presents the entertaining case that sci-fi/fanboy entertainment's dominance over pop culture signifies perhaps a shift in the overall tactical mindset of the world.
Pick a teen movie from "American Grafitti" to "Porky's" to "American Pie," and you're almost certain to find a scene where some sneering muscle guy menaces the scrawny kid with glasses and straight A's in math.  It's always been a little scary to be the geek.

But even back in the 1950s, long before schools had policies on bullying, it was clear to many readers of those Charles Atlas comic book ads that the guy washing the sand out of his eyes would someday own the business where the muscleman would be applying for a minimum-wage job.  Being a well-tanned bully might make you king of the beach on sunny days, but it's not a skill that translates well to the rest of life.

The geek has a lot more options, especially after his girlfriend has left him and he has more time to study math. Just kidding. Today, the geek's got a real shot at keeping the girl, because in the larger perspective, our whole culture has shifted over the last 60 years from the muscle world to the geek world.

To oversimplify only a little, we now develop computer applications and cyber-ideas the way we used to build Thunderbirds and iceboxes.
It's a nice piece well worth the read.  Check out the rest here.