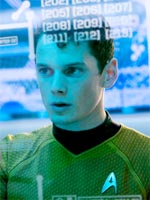 • In a bumper season for the sci-fi genre, Kris was thoroughly impressed by both "Star Trek" and the lower-profile "Moon."
• Meanwhile, we kicked off this year's Page to Screen series with a look at the literary origins of "Chéri'."
• In a sad week for the business, we bade farewell to both actor Dom DeLuise and filmmaker Marc Rocco.
• Quentin Tarantino declared "Inglourious Basterds" a masterpiece. (And Eli Roth a bastard.)
• Following "Angels and Demons," could cinema be the wrong medium for Dan Brown's storytelling?
• Continuing our new Sunday Cents feature with a breakdown of "Wolverine's" box office performance.
• Speaking of which, the "X-Men" franchise continues to grow new limbs. This time, a Deadpool spinoff.
• We got a taste of Francis Ford Coppola's "Tetro" with both a trailer and the opening minutes of the film.
• Yours truly admitted to some reservations about Christian Bale's recent work, and lost further cool points by fessing up to his Jennifer Garner weakness.
• Finally, our contentious quest for the most influential films of all time continues apace.