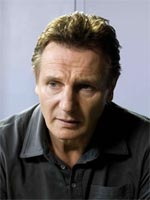 For whatever reason, it completely slipped my mind to mention Oliver Hirschbiegel's superb "Five Minutes of Heaven" when it premiered on UK television last month. The film, which won directing and writing honours at Sundance in January, is an exemplary return to form for the "Downfall" director, a grim but riveting account of two men seeking closure 30 years after one murdered the other's brother in the darkest days of the Irish Troubles.
As the reformed killer, Liam Neeson offers up his most nuanced, affecting work in several years, but it's really British TV regular James Nesbitt who breaks the heart as a man stuck in agonised limbo between release and revenge. It's taut, impeccably written and realised drama, comparable in many ways to Paul Greengrass's similarly disquieting "Bloody Sunday" — between this and the "Red Riding" trilogy, it's an odd truth that the best filmmaking of the year so far has only appeared on the small screen on this side of the pond.
Happily, Screen International reports that the film will get the theatrical platform it deserves Stateside. IFC Films has acquired US rights to the film, and is planning a multi-format August release:
IFC's Arianna Bocco negotiated the deal with Pathe International and UTA and the distributor will release the film through its IFC In Theatres VOD day-and-date platform.

Five Minutes Of Heaven, which premiered in Sundance, will also go through the company's exclusive deal with Blockbuster in stores, by mail subscription and digital downloading at Blockbuster.com.
Great plan. The film's not the easiest sell in the world, so the more accessible they make it to the viewing public, the better. Keep an eye out — I can imagine this one landing on a few ten-best lists comes the year's end.