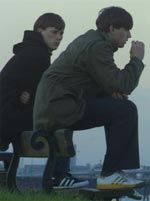 It's foolish to make any "best" claims before the year is halfway through, but if any 2009 release has a greater soundtrack than Pat Holden's upcoming "Awaydays," I will be very surprised indeed. A vividly atmospheric portrait of teenaged football hooligans in 1979 Liverpool, the film throbs to a propulsive playlist of post-punk gems from Joy Division, early Ultravox, The Cure, Echo and the Bunnymen, et al.
I liked the film a great deal upon seeing it at last year's London Film Festival (my capsule review is here). As I was watching, however, I kept wondering how such a low-budget effort had managed to afford such a top-flight soundtrack. It's a question that the film's writer, Kevin Sampson, answers in an entertaining piece in today's Guardian. With a music clearance budget of just £10,000, and the average price for a single song standing at about £4,000, apparently sometimes it just pays to plead:
Halfway through there's a stripped-down, home-recorded demo of 10.15, Saturday Night. It features little more than Robert Smith and a guitar, and it's one of the most devastating and heartbreaking love songs I've ever heard. I told (Universal Music's) Marc Robinson as much, but knew we could never afford the Cure. He agreed, but suggested I wrote a letter to Robert Smith, which he would forward. It was worth a shot. I wrote honestly and passionately about seeing the Cure at Eric's in May 1979, then thought nothing more of it. Robert Smith came back and said we could use the song for £500. I fainted.
Good on them. Trailer (featuring one of the film's key tracks, Ultravox's "Young Savage") after the cut.