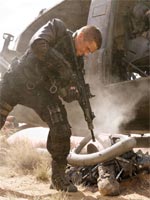 The first evaluations of "Terminator Salvation" are slowly creeping in (here's AICN's reasonably positive take if you're interested), but I was more interested in something the Film Experience's Nathaniel Rogers had to say about Christian Bale's performance, which mirrors a grievance I've had with the actor's work of late.
Rogers likes the film well enough, but finds Bale's contribution distinctly lacking:
I am happy to report that unless Christian Bale's eyes are particularly sensitive to bleached colors and shadowy sets, Shane Hurlbut's lensing didn't intrude on his thespian process at all. But Bale intruded on Bale's thespian process.

I liked Salvation a lot more than this next statement will imply but… John Connor was a dud. [editor's note: Isn't he always?] Christian Bale bored me silly. He used to be a thrilling and unpredictable actor. Now I feel like I'm seeing the same performance over and over again. It's like he's lipsynching to his own Arias of Intensity.
I couldn't agree more. Admittedly, I've never quite learned to love Bale — his most impressive performances ("The Machinist," "American Psycho") have a mannered quality that keeps me at arm's length, while he has an unfortunate tendency to get outshone in talent-laden ensemble pieces ("Laurel Canyon," "I'm Not There," even "The Dark Knight") — but he's an undeniably accomplished and courageous actor.
So it's disappointing to see him applying the same shade of opaque intensity to one impenetrable hero after another recently. Here's hoping he finds more notes to play in "Public Enemies."