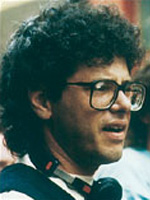 It saddens me to report that filmmaker Marc Rocco, perhaps best known for directing the 1995 film "Murder in the First," was found dead in his Northridge home over the weekend.
I was informed of the news earlier today by a mutual friend, so I called the Devonshire division of the Los Angeles Police Department in Northridge to get the details.  It seems Rocco was found by a friend on Friday, May 1 after he had not been seen for nearly a week.  Police say there was no foul play involved and they are still awaiting autopsy results.  It appears to be a natural death, I'm told.  Five days later, nothing at Variety, nothing at The Hollywood Reporter, nothing at the L.A. Times — nothing anywhere.  According to police, no one has even called asking questions yet.  Bizarre.
I never saw Rocco's earliest work, 1987's "Scenes from a Goldmine," the Corey Feldman/Corey Haim starrer "Dream a Little Dream" and 1992's "Where the Day Takes You."  "Goldmine" and "Dream" both featured Rocco's father Alex, who starred as Moe Greene in "The Godfather."  But I always loved "Murder in the First," which featured first-rate performances from both Christian Slater and Kevin Bacon.
It was one of those films that sort of came and went in the early weeks of 1995.  Fortunately the Screen Actors Guild and Broadcast Film Critics Association remembered Bacon's work come year's end, the former nominating his career-best leading performance, the latter awarding him for it.  Nowadays it seems most people forget the film until it pops up on TNT or the like, but it was a confident showcase that proved Rocco had some real directorial chops.
I always wondered what happened to the director after that.  He seemed to have a few projects on the horizon, according to his IMDb page, but the last two films he worked on were 2005's "The Jacket" (story and producer credits) and 2007's "Take" (executive producer).  He popped up two years ago to direct the music video for Eddie Vedder's "Guaranteed" from the "Into the Wild" soundtrack, however.  Variety reported in January of 2007 that Rocco was set to adapt Jim Thompson's "The Killer Inside Me" and that he was "mobilizing to direct" his original script "The Winter Hill Gang," which had been set up at Paramount several years ago with Tom Cruise and Paula Wagner producing.
Sad news.  Rocco was 43.  He is survived by his wife, sister and younger brother.