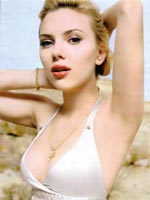 Poor Scarlett Johansson can't seem to catch a break these days. With her acting talents currently experiencing a bit of a fallow period (I'm being gentle, I'm a fan), the snark patrol have now seized on her burgeoning directorial ambitions too.
The source of their glee is the news (a few days old, but I only saw it now) that the short film Johansson directed for the upcoming portmanteau movie "New York, I Love You" (a follow-up to 2006's "Paris, je t'aime") has been dropped from the thematically linked collection, which features contributions from such oddly matched talents as Fatih Akin, Natalie Portman and, uh, Brett Ratner.
Unnamed "sources" (yeah, I'll bet) claims it's because the film is "unwatchable," while others say the film — which stars Kevin Bacon as an obsessive-compulsive on a day out in Coney Island — simply doesn't fit the project's romantic brief. Producer Emmanuel Benbihy, meanwhile, offers this diplomatic explanation:
The story did not specifically involve an interpersonal relationship, and it was conceptualised to be filmed in black and white – both of which were extreme departures from the other films. Scarlett presented me with an extremely compelling, albeit unconventional, narrative that appeared as though it would not necessarily conform to the overall approach of the entire collective.
The Guardian's Peter Bradshaw, citing the suffocating preciousness of the Paris instalment, thinks she's better off out of it. I have no idea, except that I'm more curious to see another facet of Johansson's creative personality (shoot me, I kinda liked her Tom Waits album) than Brett Ratner doing a love story. Oh well.