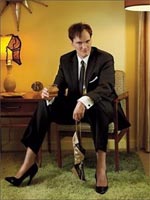 You may or may not have caught this piece on Quentin Tarantino in Sunday's New York Times magazine. Overall, it's a fairly flimsy Cannes-oriented interview that serves mainly as an accompaniment to some pretty pictures (very pretty, in the case of the Diane Kruger shots), but two of QT's statements jumped out at me.
In the first, he (fairly, I think) defends his decision to hand "Fahrenheit 9/11" the Palme d'Or in 2004 as a reward for being "a movie of the moment" — but when the conversation turns to "Inglourious Basterds," he offers up this line:
NYT: On this movie, you worked very quickly. Was that partially to have the film ready in time for Cannes?

QT: Yes. I wanted to have a masterpiece before the decade's out.
I'll let slide the overweening pride of Tarantino's statement for a moment — partly because, as many misgivings as I personally have about the new film, it's that brash confidence that also gave birth to a genuine masterpiece like "Pulp Fiction." Largely, however, it's because I detect a note of cryptic self-deprecation there.
Perhaps I'm reading too much into his wording. But the use of the indefinite article "a" rather than, say, "another," intrigues me. Is he admitting that, "Basterds" aside, he hasn't made a masterpiece this decade? If so, on behalf of "Kill Bill: Vol. 1" — and only that, I hasten to add — I'd like to disagree.