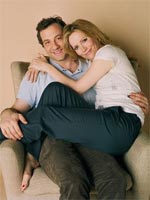 I recently discussed the positive buzz building around Judd Apatow's "Funny People," which has thus far turned up numerous allusions to the unabashedly sentimental seriocomic stylings of James L. Brooks — a comparison that promises either polished awards-bait, mawkish pap or both, according to taste.
Suggesting that the Brooks similarities hold true beyond a glib glance-over of the film, Apatow fully acknowledges his debt to the "Terms of Endearment" filmmaker (with whom he worked on the 1990s animated series, "The Critic") in this recent New York Times piece, which addresses his and his team's weightier aims for the project:
Asked why, at 41, he would follow movies about sexuality and childbirth with a film about mortality, Mr. Apatow was circumspect. "I've unfortunately been around people who have been ill and seen people figure out how to deal with it," he said. Some, he added, "just keep plowing on forward, and they don't seem to change."

"What I took from (working with Brooks) was, the audience is supposed to like the movie, as simple as that sounds," Mr. Apatow said. "If they're not loving it, you failed."

But even Mr. Apatow's closest confederates recognize that "Funny People" may not be as easily loved as his two previous films. "I wouldn't describe it as dark," said Mr. Rogen, a star of "40-Year-Old Virgin" and "Knocked Up." "I would say it's more ambitious in what it's attempting to make light of."
This sober tone colours the entire piece, as Apatow expresses his desire to make a "Tuesdays With Morrie"-type story but — before you retch — with the twist that "the main character learns nothing," while the words "grown-up", "intensely personal" and even "existential" come up at various points. No pressure, then.
I do wonder whether this was the right approach to take with the film's pre-release publicity. As Rogen admits, by making explicit their intentions to make a serious statement within a populist comedy, Team Apatow is setting itself up for a far greater fall if the film doesn't deliver on those multiple levels. Even if it does, however, the sneak-attack method would work in its favour, if audiences found themselves unexpectedly moved as well as amused. Subverting expectations can sometimes be easier than meeting them.
As it is, I'm worried that such statements of ambition may be taken for pomposity in some quarters, making the film a more vulnerable critical target. It's a good thing, then, that Apatow's wife and leading lady, the universally liked Leslie Mann, is on hand to bring some humorous modesty to the publicity train. In a brief profile of the actress in yesterday's Los Angeles Times, she sums up her colleagues' mature ambitions in a single delightful soundbite:
"As we get a little older and raise families, we have more to say, and I think the movies and performances reflect that," Mann says. "And there are only so many times I can vomit on someone in my career before it gets old."
Well said. I can only hope the film is similarly forthright.