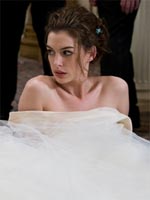 What do Paramore, The Rock and Kate Winslet have in common? Why, they're all nominees for the 2009 MTV Movie Awards, of course. Like, duh.
I have no idea what the MTV Movie Awards are for. Nobody knows or cares who wins them. (Who took Best Actor laurels last year? I doubt Will Smith could tell you — and he won, for Chrissake.)
Subject to public vote, they serve largely as a popularity contest along the lines of People's Choice honours — but then they taint the purity of such a credo by throwing in a mention for something incongruously credible like "Milk." (In the prestigious Best Kiss category, to boot — how honoured Gus Van Sant must feel.)
Anyway, this year's nominees are a typically ill-thought and ill-fitting bunch. "Twilight" leads the race, closely followed by "Slumdog Millionaire," which should tell you pretty much everything you need to know about the awards. They claim that the nominations were also determined by the public, though I have a hard time believing that the same people who decreed Vin Diesel a Best Actor contender for "Fast & Furious" also voted Kate Winslet in for "The Reader."
Speaking of which, there's a delicious hint of Bizarro World in the Best Actress category, which finds Anne Hathaway repeating her nomination success at the Academy Awards — except, wait, it's for "Bride Wars," not "Rachel Getting Married." Riiight. Angelina Jolie, meanwhile, finds herself in the race for "Wanted" rather than "Changeling" — though that's a preference I heartily endorse.
One thing is worth noting, however: even the bloody MTV Awards could be bothered to nominate Bruce Springsteen's "The Wrestler" theme. The Academy will never live that one down. (Check out the MTV nods here, if you dare.)