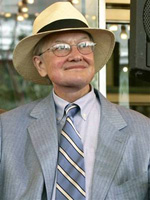 Director Rod Lurie recently presented his film "Nothing But the Truth" (which finally benefited from a mass-market release by landing on DVD last week) at Roger Ebert's Ebertfest.  Using the sad news of Ebert's paper, the Chicago Sun-Times, filing Chapter 11 in March as a spring-board, Lurie writes up a nice love letter to the famed critic in this Huffington Post item.
In the piece, Lurie recounts Eberts physical reactions to the film's screening and the undeniable passion for cinema that still oozes from his every pore, despite the throat cancer that has been such a terrible burden.  Here's a taste:
This all registered with me with a special profoundness. I have followed his writing since I was a teenager. When I was 14, I sent him a letter asking for his ten best of all time list. He wrote me back. In longhand. That's a mensch for you (Citizen Kane was number one, I remember). He is the one critic who can convince me to see films that everybody else hates because he has a unique sense of finding hidden talent and hidden value. Whenever I have a film coming out, his is the one opinion I take personally. When he has given me a smack here and there I have deserved it…

Ebert now communicates by writing on a small pad. Matt Dillon and I were peppering him with questions. Matt wanted to know who his favorite directors were (I think I saw Hawks, Huston, and Keaton on the list), I asked him what movie has he never seen that everybody would have expected to have come under his gaze (The Sound of Music)…As I watched him write his answers — and he did it with zeal and pleasure — it struck me that his pen had become an IV to him. His lifeblood.
It's a great read and a touching dedication.  Read the full piece here.